Fiona Foster
Former London Tonight anchor, journalist and consumer expert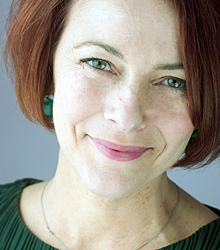 About
Fiona Foster has worked as a journalist and consumer expert across a number of high profile programmes, including London Tonight – which she co-anchored – BBC1 Breakfast News, The One Show and Tonight on ITV.

Fiona started in local radio in 1985 at BBC Radio Oxford before moving on to work at BBC Radio Nottingham, Capital Radio and to co-present the Breakfast Show for GLR in London.

In 1989 Fiona got her first job in television as the co-anchor for BBC1's Breakfast News and Business Breakfast where she stayed for three years. During this time Fiona also presented Business Matters on BBC2, The Blenheim Horse Trials for Channel 4 and did frequent stints anchoring CNBC's London business programme.

In 1992 Fiona Foster became the video reporter following the emergency services for BBC1's 999 and reported regularly for BBC's Holiday. From 1993-1996 Fiona co-anchored Carlton Television's London Tonight as well as ITV's prime-time show Missing. She presented Crime Monthly for LWT and reported live from Scotland Yard for ITN's Police Action Live. She was also a guest presenter for ITV's current affairs show 3D.

In 1996 Fiona moved to Atlanta for 3 years to work for CNN as the anchor on World News. Here she covered numerous breaking news stories and live events, ranging from the death of Princess Diana and NATO's entry into Kosovo to President Clinton's trip to China and the signing of the UN/Iraq peace deal.

On returning to the UK in 1999 Fiona landed a position with ITV as a reporter on Tonight With Trevor McDonald. Today she is still at Tonight and in 2010 started presenting BBC World's weekly travel news programme, Fast Track and a variety of other programmes for the channel, including Weekend World, Russia Business Report and One Square Mile. She recently started working with BBC1's The One Show.

Fiona has done numerous programme voiceovers including several "….From Hell"s, Britain's Rich List and McCartney v McCartney and countless corporate engagements for Philips, the DTI, Adecco, EMI and many others.

She was born in Yorkshire and has a degree in Russian and French.
You may also be interested in...