Dr Mark Mobius
The world's foremost specialist In emerging markets and investment trusts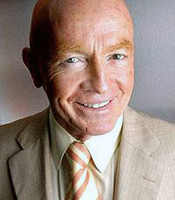 About
Dr. Mark Mobius, full name Joseph Benhard Mark Mobius, joined Franklin Templeton Investments in 1987 as president of the Templeton Emerging Markets Fund Inc. in Hong Kong, with responsibility for all of Templeton's emerging markets activity. In this capacity, he directs the analysts based in Templeton's eleven emerging markets offices and manages the emerging markets portfolios.

Dr. Mobius has spent over thirty years working in Asia and other parts of the emerging markets world, and has extensive experience in economic research and analysis. Each year he spends over 200 days travelling from one emerging market to another in search of emerging market opportunities.

For the second year in a row, Dr. Mobius was named the number one global emerging market fund manager in the 1998 Reuters Survey. CNBC named him '1994 First in Business Money Manager of the Year'. Morningstar in the U.S. awarded Mark Mobius the 'Closed-End Fund Manager of the Year' for 1993. In 1992, Dr. Mobius was named 'Investment Trust Manager of the Year' by The Sunday Telegraph in the United Kingdom.

Prior to joining Franklin Templeton Investments, from 1983 to 1986 he was president of International Investment Trust Company Ltd. - Taiwan's first and largest investment management firm. He had served as a director at Vickers da Costa, an international securities firm. He started in that firm's Hong Kong office in 1980, and then moved to Taiwan in 1983 to open an office and to direct operations in India, Indonesia, Thailand, the Philippines, and Korea. Before joining Vickers, Dr. Mobius operated his own consulting firm in Hong Kong for ten years, and was a research scientist for Monsanto Overseas Enterprises Company in Hong Kong and the American Institute for Research in Korea and Thailand.

Dr. Mobius holds bachelor and master degrees from Boston University; and received his Ph.D. in economics and political science in 1964 from the Massachusetts Institute of Technology. He also studied at the University of Wisconsin, University of New Mexico, and Kyoto University in Japan. Mark Mobius is author of the books 'The Investor's Guide to Emerging Markets', 'Mobius on Emerging Markets' and 'Passport To Profits'.
You may also be interested in...