Dean Brettschneider
World renown baker, TV presenter and owner of Cross Town Doughnuts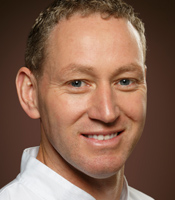 About
Baker, TV Personality, Entrepreneur & Author Dean Brettschneider is one of the most respected bakers in the world, with over 25 years' experience, 11 bestselling baking books, and a true passion for creating exceptional 'new world' baking products.

Following an apprenticeship at the award-winning Rangiora Bakery in New Zealand, where he won the NZ Apprentice of the Year award, Dean travelled in Europe, gaining experience across prestigious hotels, fine dining restaurants, artisan bakeries, and supermarket bakeries. Returning to New Zealand, he worked in research and development for Ernest Adams, before attending the American Institute of Baking in Kansas, USA, in 1991. He then moved on to teach at the New Zealand Baking Training Centre in Christchurch as its youngest bakery tutor, and three years later bought a small artisan craft bakery, Windsor Cakes, in Dunedin NZ which he ran successfully for four years, winning many national awards. Dean was then persuaded to join Goodman Fielder Ltd under the Champion Flourmills brand in 1996 and worked for CSM / BakeMark International Asia-Pacific region from 2003 to 2010.

Dean Brettschneider was instrumental in setting up Baker & Spice with the Wagas Group in Shanghai, and is founder and co- owner of the global bakery chain Baker & Cook with its flagship store based in Singapore and more stores to open in Manila, Taipei, Kuala Lumpur, Tokyo and New Zealand in 2014/15. His other ventures include Urban Bakery in NZ and collaborations with Almazrouei Group in Abu Dhabi,and Dragon Hotel Group in Hangzhou China. In May 2014 Dean launched Crosstown Doughnuts in London's Wapping Market.

Often called upon as consultant to top brands, including Flora, Unilever, Starbucks, Tesco, Sainsbury's, Waitrose, Morrisons, New World Supermarkets New Zealand, and Lantmännen Unibake UK to name a few. In 2014 he became brand ambassador for bakery & pastry for InterContinental Hotels Group AMEA region.

Dean's 12 baking books have won World Food Media Awards and Gourmand World Cookbook Awards. In October 2013 his first UK title, Pie, was published by Jacqui Small. His 12th book for New Zealand, 'Bread', was published by Penguin Group NZ on 25th July 2014 and will also published by Jacqui Small for the UK, Europe and USA in 2014.

On television Dean is co-host and lead judge on New Zealand's Hottest Home Baker on TV3 and Food TV New Zealand, and presents his own series which has taken him to Shanghai, France and USA, the latest series 'A Kiwi Baker in California' is aired in February 2014. His other series include The Cook & The Baker, and The Sugar Club, both for Food TV New Zealand. He recently completed filming a travel and baking series for Food Network UK.

Dean Brettschneider appears at international events demonstrating his recipes and hosting classes and workshops. He often assists British Chef Rick Stein in training and development for his bakery and restaurant staff. Dean remains involved with his global businesses and is based between Britain and Denmark, making regular visits to his bakeries in Asia and New Zealand.
Books and DVDs
Clients often ask about purchasing books for giveaways and delegate packs. Below you'll find a selection of products by Dean Brettschneider. Click the images to view on Amazon's website. For bulk orders, please speak with your Booking Agent.
Tags for Dean Brettschneider
You may also be interested in...