Dai Greene
World Champion hurdler for Great Britain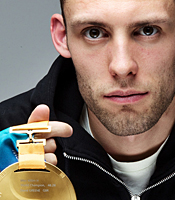 Copyright © John Nord
About
Dai Greene is a British athlete who specialises in the 400 metre hurdles and has been at the forefront of British Athletics since bursting onto the scene in 2009. Dai is the second fastest British man over the 400 metre hurdles, a former World, European and Commonwealth Champion.

Growing up Dai started his sporting career in football, playing for the Swansea City youth team. Plying his trade as a winger, Dai scored a goal against Real Madrid youth team before turning down an opportunity to sign professional terms with Swansea when he was 16. Football's loss was athletics' gain, with Dai competing at the European Athletics Junior Championships in 2005, winning a silver medal in the 400 metre hurdles. This was the start of a blossoming junior career, which saw Dai go onto win gold at the 2007 European Athletics U23 Championships in Debrecen.

2009 saw Greene start to make waves on the senior circuit, competing for Team GB at the 2009 World Championships in Berlin, finishing seventh in the final of the 400 metre hurdles. The Welsh runner then won a silver medal, racing in the 4 x 400m relay in Berlin. 2010 proved to be one of the most successful years of Dai's career so far, winning Gold at the European Championships in Barcelona before running at the Commonwealth Games in Delhi, winning another gold to become Commonwealth Champion.

After missing out on a medal at the World Championships in Berlin in 2009, Dai raced in Daegu in 2011, winning gold in the 400 metre hurdles with a time of 48.26 to hold the title of World Champion. Dai then smashed this time at the Diamond League event in Paris in July 2012, running a personal best of 47.84.
The Swansea Harrier runner was selected as captain for the Great Britain athletics team for the London 2012 Olympics, where he narrowly missed out on a medal in both the 400 metre hurdles and 4 x 400m relay, finishing fourth in both events.
Testimonials
Dai Greene was kind enough to address an audience of staff, students and visiting charity representatives at an awareness raising event. Dai was excellent – talking candidly about his experience with epilepsy, and how he manages the condition to ensure that it doesn't impact his athletic performance.
You may also be interested in...