Colin Maclachlan
Former SAS member and star of Ch4's Who Dares Wins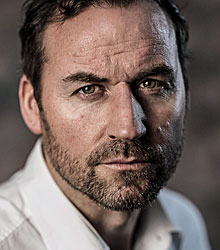 About
Colin Maclachlan spent nearly 17 years in the military, the latter half with UK Special Forces (Mountain Troop, 22 SAS). During his time in the Special Forces he held various roles from Sniper Commander, Driver Commander, Instructor on Selection Training Wing, Surveillance Operator, Forward Air Controller, Medic, Bodyguard, SF Exchange Programme with Delta Force and Seal Team 6.

He left Special Forces in 2006 after his high profile capture and subsequent rescue in Iraq. Since then he has been involved in bodyguarding the likes of the Saudi Royal Family, 'A List' Celebrities and large news networks.

Colin holds an MA (Hons) in History from Edinburgh University and an M.Litt. in Terrorism from St. Andrews. He currently writes articles and commentates on military and terrorism related topics.

Colin Maclachlan was involved in some of the most successful and high profile operations in the SAS's recent history. More recently, he has been involved in the highly acclaimed Channel 4 series SAS: WHO DARES WINS and has appeared on several TV and Radio shows as well as writing many pieces for national newspapers.

Colin has also been undertaking motion capture work and consultancy for video games such as Rockstar Games and is credited on Grand Theft Auto III, IV, and V, Red Dead Redemption and LA Noire. He is involved in a number of charities including being a Patron for the Lee Rigby Foundation, Ambassador for the Pilgrims Charity, Help for Heroes and many more.
Speech Topics
In his highly motivation corporate presentations, Colin Maclachlan draws upon his years of military experience and the many parallels that can be drawn between the qualities and attributes needed to succeed in the SAS — the world's toughest elite fighting squad — and becoming a successful leader in business.

A strong mental attitude is probably the key core attribute. Then being a good soldier, teamwork, physical and mental robustness are critical. Other things may help but need careful management are a sense of humour and even self-assuredness. The SAS looks for every man to be as strong a team member as they are a leader.

Colin's popular speech topics include:
• Leadership
• Peak Performance
• Motivation
• Teamwork & Team Building
• Drive & Determination
Tags for Colin Maclachlan
You may also be interested in...