Chris Rock
One of America's most loved and respected comedians and actor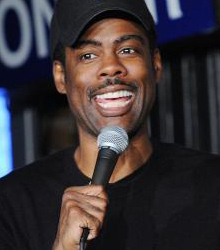 Copyright © David Shankbone
About
Chris Rock is one of America's most loved and respected comedians. With a career spanning over three decades, Chris is now a true household name.

Chris was discovered by Eddie Murphy at New York's Comedy Strip at the age of 18. He went on to appear in films and on Saturday Night Live, and soon released his first comedy album. His successes include an Emmy award-winning HBO special, two Grammy award-winning comedy albums, and the popular sitcom Everybody Hates Chris.

Growing up, Chris Rock attended a nearly all-white public school and, as a result, was subjected to discrimination at an early age. Chris's early bouts with racism greatly influenced his comedic material. Chris Rock is most noted for his raw humor and has no qualms about making fun of all sexes and races. His uninhibited nature has earned him respect and praise from both white and African American communities.

Chris Rock also starred in Keenan Ivory Wayans' I'm Gonna Get You Sucka (1988), which exploited racism in a comedic manner.

In 1990, Rock followed the footsteps of his idol, Eddie Murphy, by joining the cast of Saturday Night Live. A year later, he released his first comedy album, Born Suspect. He also undertook the more dramatic role of playing Pookie, a drug addicted informant, in Mario Van Peebles' feature New Jack City. After spending three seasons on Saturday Night Live, Rock left to pursue other career opportunities. In 1993, Rock appeared on FOX's In Living Color for a handful of episodes prior to the show's cancellation.

1996 marked a turning point in Chris Rock's career. His talents were recognised by HBO, and the cable network produced a comedy special starring Rock, titled Bring in the Pain. The comedian won two Emmy Awards and wide critical acclaim for the show. In 1997, Chris began hosting his own television show on the HBO Network, The Chris Rock Show, which earned him two CableACE awards.

Chris Rock also received two Grammy Awards for his spoken comedy albums Roll With the New and Bigger and Blacker. In 1999, he appeared in the irreverent big-screen comedy Dogma, alongside such hot young stars as Matt Damon, Ben Affleck, and Salma Hayek. He had another big screen role in 2000, playing a hit man in the black comedy Nurse Betty, starring Renee Zellweger.

In 2005, Rock debuted a sitcom on The CW Television Network called Everybody Hates Chris, a spoof on the perennially popular Everybody Loves Raymond. The show was inspired by Chris Rock's teenage years growing up in New York City. The show quickly became the second most watched comedy on the network.

Chris Rock has continued to thrive as a comedian and an actor. He has appeared in such films as Death at a Funeral with Martin Lawrence and Grown Ups (2010) with Adam Sandler. In 2012, Rock starred opposite Julie Delpy in the independent romantic comedy 2 Days in New York.
Books and DVDs
Clients often ask about purchasing books for giveaways and delegate packs. Below you'll find a selection of products by Chris Rock. Click the images to view on Amazon's website. For bulk orders, please speak with your Booking Agent.
You may also be interested in...