Bryony Gordon
Telegraph journalist and features writer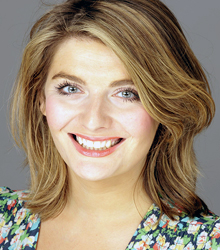 About
Bryony Gordon is one of The Telegraph's best loved journalists columnist and features writer. She has been writing for The Telegraph for a number of years (having worked there on and off since 2000), and also freelances for various other publications including Grazia Magazine.

Bryony has interviewed such eminent figures as Lord Heseltine, Ricky Gervais and Bryan Ferry. Her much loved column 'How the Other Half Lives' has been described as a staple for any Sunday morning reader, where she investigates and bemoans the absurdities, comic episodes and craziness of modern life.

Bryony's first book The Wrong Knickers was published by Headline in 2014. It became a Sunday Times bestseller staying in the chart for 6 weeks in 2015.

Her next book MAD GIRL was published to critical acclaim and intense media coverage by Headline in June 2016 and then was selected for the Richard and Judy Spring Book Club 2017, where it also became a Sunday Times Bestseller, staying on the paperback non-fiction chart for over 2 months.
You may also be interested in...