Barbara Nice
Character comedian and BGT 2019 finalist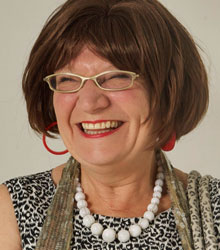 About
A playful, life-affirming comedian whose act is suitable for all the family, Barbara Nice is the hilarious and critically acclaimed comedy creation of renown actress Janice Connolly.

Janice has an impressive roster of acting roles behind her. She was spotted many moons ago by Peter Kay, performing at the Palace nightclub in Levenshulme as Barbara Nice, during the final of Manchester Evening News New Act of the Year 1997, in Manchester.

Since then she has worked with Peter on four of his TV projects including playing Holy Mary in Phoenix Nights, a part Dave Spikey wrote specifically with her in mind, and then reprising the character for Max and Paddy's Road to Nowhere. She also played Mrs Bamforth in That Peter Kay Thing.

Janice Connolly was awarded the BEM (Order of the British Empire Medal) in the 2017 Queen's New Years Honours List for her services to Community Arts in the West Midlands. She is also the Artistic Director and founder member of Women and Theatre in Birmingham. A trained teacher, Janice has worked both in mainstream education and as an education project worker for Barnardos.

Having supported Johnny Vegas and Peter Kay, Barbara Nice is now a circuit headline act in her own right, as well as being one of the most experienced comedy comperes in the country. She has also performed her solo shows in Edinburgh, Brighton and Manchester.

In May 2019, Barbara took part in global talent competition Britain's Got Talent, and left the celebrity judges in hysterics on the ITV show when she appeared on stage with her colourful clothes and witty one liners. She stormed through to the live semi finals.
Performance
Barbara Nice is a caricature of your average middle-aged housewife from Stockport, who's given up the domestic bliss of Tupperware and Pound Stretcher shops for the unpredictability of the comedy world.

No audience is too rowdy for her to handle – after all, she's already raised five teenagers. With the affectionate attitude of a playgroup leader at a wild Iggy Pop concert, Barbara is guaranteed to warm the heart of any audience.

With her enviable track record of garnering 5-star reviews and sell-out shows on the comedy circuit, Barbara Nice doesn't abuse the audience, she raises everyone's spirits; putting a smile on your face and a spring in your step.
You may also be interested in...