Adrian Fawcett
Chairman of Silentnight Group. Former CEO of General Healthcare Group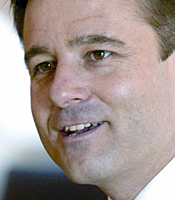 About
Adrian Fawcett is Chairman of Silentnight Group – the UK's market leading manufacturer of beds and mattresses and previously Chief Executive Officer of General Healthcare Group, the leading provider of independent health care services throughout the UK and the UK's largest private hospital company. Adrian also sat on the Board of the Department of Work & Pensions was the Chief Operating Officer for Punch Taverns Plc., one of the UK's fastest growing FTSE 150 companies.

During his time at Punch the company doubled in size through energised organic growth and the acquisition of both Pubmaster and InnSpired. He saw Punch Taverns manage the successful integration of these businesses into a 7,800 strong pub estate, which the company leases to individual entrepreneurs.

Adrian Fawcett joined Punch from Interbrew where he was Corporate Vice President of the Belgian brewer, globally responsible for business integration of both Interbrew's operational businesses and the group's M&A activity.

Adrian spent six years at Bass Brewers from 1996 to 2001. During this time he held a number of roles, including a period as Brands marketing director, culminating in his position as Group Managing Director of Bass Brewers Operating Companies. He led Bass's UK Operating Companies through the period of its sale to Interbrew and further to competition commission referral the subsequent restructuring and divestment of Carling to Coors Brewers in 2002.

Prior to this, Adrian Fawcett held senior general management roles with both Mars Confectionary and Ford Motor Company. He sits on the Punch Taverns Plc Board. Education: Economics degree & MBA.
Speech Topics
Why Adrian Fawcett?
Adrian is an inspirational and observational speaker who has a lively and engaging style. Not one to use notes or a lectern, he grabs the attention of the audience with a theatrical, humorous, anecdotal and punchy style.

He is able to tailor and adapt his talks to meet individual client briefs by drawing from his significant in-depth knowledge of business (especially FMCG and consumer sectors), organisational management, economics and changing consumer trends.

Topics include:
-- The consumer and consumer trends
-- Competing for the consumer pound - things to note when looking to get people off their sofas, out of their homes and spending their hard earned cash on the high street.
-- Mergers and acquisitions - buying a company is often the easy bit. Successfully integrating it into your existing business and then making it profitable is where the skill and value lies.
-- How the pub is one of the barometers for all businesses in terms of the economy: consumer spending behaviour, changing consumer tastes and trends.
-- What makes an entrepreneur? Punch leases its 7,800 strong pub estate to individual entrepreneurs - what is the secret of business and personal success.
-- A changing economy - the increasing role of technology and emerging economies.
Testimonials
The feedback from quite a few editors had Adrian's session down as their favourite of the day which is no small feat.... I had hoped Adrian would give the editors a blast of fast paced reality from the wider economy and that's exactly what they got, so please thank him again.
I just wanted to drop you a line and say how excellent I thought your talk was this morning at the ICC, it certainly woke me up and was delivered with great wit! Thank you for an informative and very interesting talk.
Today's event went really well and the feedback I've received so far has been excellent. Adrian's presentation was informative and entertaining - I don't know how he remembers all those stats!
What a great presenter! Relevant, informative and entertaining - the feedback has been superb.
You may also be interested in...