Spencer Kelly
Technology presenter and live host (BBC Click)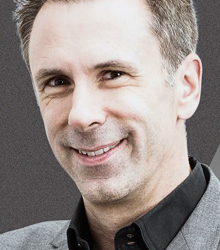 About
Spencer Kelly presents BBC2's flagship technology programme Click, and shown in over 200 countries on BBC World News, allowing viewers to watch him indulge his passion for science and technology.

Spencer is a respected broadcaster and journalist with more than fifteen years experience in radio and television. Alongside Click Spencer is a regular guest on BBC Radio 5 Live and Radio 2's Steve Wright in The Afternoon. Spencer has interviewed many big names in the world of entertainment and technology, including film director James Cameron, Microsoft bosses Bill Gates and Steve Ballmer, and legends Sir David Attenborough, Phil Collins and the Bee Gees. He has also been invited to meet the Queen at Buckingham Palace.

As part of a lifelong love affair with science and technology, Spencer first fell in love with computers when his teacher switched on the classroom's first BBC Microcomputer. From that moment his life was filled with too many programs and not enough girlfriends, something which earned him a double first in Computer Science from Cambridge University. He has recently been awarded an Honorary Doctorate of Technology by the University of Coventry.

But at the age of 18, another love interest arrived on the scene. He became involved with Cambridge University Radio, presenting programmes and also running the station during his final year. Radio was too much of a tempting mistress, and after graduation, he parked the computing for a while, first setting up a charity radio station for the city, and then getting in with a similar project nearer home. From there he got a proper job in local commercial radio, spending two years giving traffic reports from a small plane for Power FM, Ocean FM and South Coast Radio, learning the importance of both a strong local knowledge, and a light breakfast on windy days.

During his career Spencer Kelly has reported from some far-flung countries across the globe on a range of technology issues – from the latest mobile internet devices in Japan and the crazy walking robots of South Korea, to the life-changing impact of just one computer on an Indian Village, and one SIM card on the slums of Johannesburg. He has tested satellite broadband in the scorching Namib desert, and been turned into an alien in the studios of Industrial Light & Magic in San Francisco. And he has reported on the re-emergence of 3D movies and TV in Los Angeles.

Spencer has also pursued some controversial investigations including exposing security loopholes in Facebook, and giving the first television demonstration of a botnet - showing the power available to hacker who take control of a network of infected PCs.
Speech Topics
Spencer Kelly regularly speaks at corporate events on his experiences and anecdotes as a technology tourist, and looks ahead to the exciting technologies that are just around the corner.

Spencer also hosts live events, interviews industry experts and presents in-house corporate videos.
You may also be interested in...