Simon Brodkin
Comedian and prankster (performing as himself)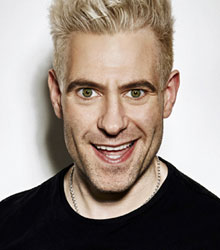 About
After three hugely successful BBC series as his character Lee Nelson, multiple sell-out tours and various court appearances following world-famous stunts, award-winning and critically acclaimed comedian Simon Brodkin unveiled his funniest creation yet… himself!

Whilst Lee Nelson is the archetypal council estate 'wide boy' in his polo shirt, baseball cap and cheap bling, in total contrast, his creator Simon Brodkin is from a Hampstead Garden Suburb, went to a private all-boys' school and qualified from Manchester University as a doctor.

However, Simon relinquished his GMC registration in 2007 to concentrate on his career as a character comedian, and has become known as one of the world's best-known pranksters.

To-date, his world-famous stunts include surrounding President Donald Trump with Swastika-emblazoned golf balls as he opened his Turnberry golf resort in 2016; handing Prime Minister Theresa May her P45 during the 2017 Conservative Party Conference; showering FIFA President Sepp Blatter with bank notes; re-christening Sir Philip Green's hundred-million pound yacht "BHS Destroyer" and joining Kanye West onstage at Glastonbury.

The months of meticulous planning that go into pulling off these audacious stunts were documented by Channel 4 in Britain's Greatest Hoaxer.

So how does an established comedian of such standing make their debut performance 12 years into a highly successful career?

Ditching his aliases and performing as himself, Simon's comedy is both playful and serious, often in the same sentence. He traverses a wide range of subjects, including the inadequate British response to global warming and the hegemony of climate change deniers in America, Brazil and Saudi Arabia, to the waste-of-timers venting their anger on social media.

In an honest and heartfelt performance Simon takes the audience from his childhood growing up on the mean streets of Hampstead Village, via an adulthood as an out-of-his-depth doctor and inept parent, to someone who was ill-prepared for the torrent of anti-Semitic hatred he received from the Ku Klux Klan after pranking Donald Trump.

His weapons of choice are the power and manipulability of words to ridicule his subject and a deftly paced delivery. After the Trump golf ball prank, Simon remembers, David Duke, the former high priest of the Ku Klux Klan "outed" him as a Jew. "To be honest, I already knew. I was actually OKKK with it," he quips before turning on their uniforms. "Guys, if you don't allow the Jews in, the tailoring will suffer."

Simon has a knack for artfully switching stance, often at his own expense. He talks about men being emotionally repressed and delivers a mock funeral speech for a close friend, in which he implies he knew next to nothing about him due to a lack of communication between men.

Simon acknowledges that he too has 'hidden' behind his characters for 13 years, ever since his Fringe debut, Simon Brodkin: Everyone But Himself. "We could all do with sharing a bit more and hiding a bit less," he admits, before swiftly moving on to another joke.
Testimonials
Massive thank you mate, you absolutely killed it! Such a hard job to do when you don't know anyone and the restrictions of Zoom. I can assure you everyone was laughing their heads off, my phone keeps pinging with people saying how much they loved it and you. True genius at what you do, well done…. couldn't imagine any other comedian carrying that the way you did. Funny geezer you are! CEO was very impressed, immediately messaged me saying he wants you back in the future in some capacity. Once again big thanks, you entertained a lot of people tonight.
You may also be interested in...