Sam Wouters
Bitcoin, cryptocurrency and blockchains expert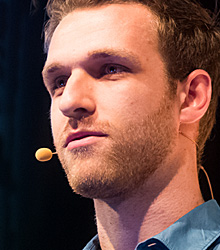 About
Sam Wouters is a Blockchain expert at an international consulting firm that services clients across Europe and the Middle East and helps them become 'Future-proof'; creating business strategies and plans to assist clients make the right strategic decisions.

Sam has been reading and learning about Bitcoin & Blockchain for many years. During his final internship in Cross Media Management (social, community & content focused studies), Sam helped to write a book on Digital Transformation and was winner of the Young Potential Award 2014, thanks to several projects both during and after his studies.

He has a background spanning Latin/Greek, Science, Electromechanics, IT, Architecture, Community Management, Video production, Webdesign, Writing, Market Research, Digital Transformation, Growth Hacking and more.

As an international Blockchain, Bitcoin and crypto-currencies speaker, Sam Wouters helps individuals understand why these new technologies exist, how they work and what you can do with them; both in a business and personal context. He believes they have the potential to make the world a better place and wants to share his knowledge to help others understand these complex topics in simple terms.
Speech Topics
Keynote Speaking
Bitcoin and the Blockchain are complex technologies. The people that are brilliant at developing them aren't always the best at explaining in simple terms what it is all about. Sam Wouters keeps it simple and understandable so anyone regardless of their background can follow the story. He tailors every single presentation to the audience, approaching it from their point-of-view or sector.

Sam Wouters will inspire your audience and help them understand why this technology is today, like the Internet was to the 90s.

Workshops
The practical applications of a blockchain are limited, but there are valuable ways in which companies across various industries can use them. Through a custom workshop of a half day to two days, Sam can set the stage, moderate discussions and help the group explore avenues to make a blockchain add value in their business. I will separate theoretical ideas from what makes sense in practice, as there are many bad blockchain use cases out there.
You may also be interested in...