Michael McGrath
Disabled explorer and inspiring motivational speaker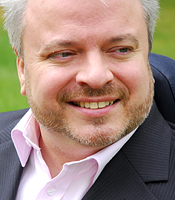 About
After being diagnosed with muscle wasting disease Muscular Dystrophy aged just 18 in 1984, Michael McGrath made history 20 years later by becoming the first disabled person in the world to lead expeditions to the north and south poles; by any standards, an extraordinary example of determination, courage and singular achievement.

Michael's remarkable life story is one of consistently overcoming incredible odds. The journey gave rise to a new life plan, inspiring Michael to embark on a career as an internationally recognised motivational business speaker. He has built an enviable list of clients, providing carefully tailored speeches for organisations including Virgin, PwC, Shell and the NHS.

He is first and foremost a father to his daughter and husband to his wife, also his business partner. At the age of 12, Michael wanted to be a professional golfer. At 14, he was invited to play at Junior Wimbledon. At 15, he dreamt of becoming the General Manager of the Savoy Hotel in London. At 16, he was a keen rugby player at Stonyhurst College (a flanker by trade!), an independent Catholic boarding school founded in 1593 (guided by Jesuit principles), whose motto "Quant Je Puis" (As Much As I Can) is central to McGrath's own Reach Beyond ethos and Can-Do spirit. At 18, he was diagnosed with Muscular Dystrophy, a muscle wasting disease that remains the single biggest genetic killer of children on the planet – in that moment, Michael McGrath's life instantly changed forever.

Michael McGrath is in demand as an inspiring motivational business speaker. He travels the world, provoking, stimulating and inspiring change whilst championing his 3M formula for success (based around the brain being a muscle, the body's ability to move and the mind needing to be fuelled by motivation) for both private and public sector organisations.

Managing his own business, Michael has influenced and changed the mind-sets of thousands through speaker engagement and bespoke masterclass activity, giving clients a robust opportunity to creatively leverage key business objectives. Today, his greatest power is his emotional force to not only inspire action but help organisations motivate their people.

In January 2004, Michael returned from Antarctica, having successfully led his team to the South Pole. In doing so, he made history by becoming the only disabled person in the world to have reached both North and South Poles – he reached the North Pole in April 2002. Leadership, trust, a strong sense of self-belief, teamwork and absolute confidence were critical success factors. Michael McGrath received global support and endorsements from business entrepreneurs such as Sir Richard Branson, actors, media presenters, sports personalities and adventurers such as Kenneth Branagh, Lorraine Kelly of GMTV, Michael Palin, Chris Bonington, Jon Snow of Channel 4 News as well as many Equality and Diversity champions including the Commissioner for Employment and Social Affairs at the European Commission in Brussels, where he has also spoken.

In the words of Alexandra Shackleton, one of his expedition Patrons, Michael continually demonstrates, like her grandfather Sir Ernest Shackleton, the qualities of optimism, courage, imagination and patience – his polar achievements are extraordinary triumphs of physical and mental endurance, and should serve as a reminder to us all that, in Michael's own words, 'our limits are often far beyond where we may assume them to be'.
Speech Topics
Whilst Michael McGrath's talks are individually crafted around different client objectives, insights through his own life experiences are often used to reinforce key business messages. Leadership, courage and trust combined with resolute self-belief, confidence, teamwork and a singularly focused obsession towards achieving desired outcomes were critical success factors – Michael draws on these experiences, giving wider business and life lessons.

Popular topics include...

Resilience
At the heart of failure or success, in the face of adversity (difficult circumstances), is something called resilience, an attribute that Michael McGrath possesses in bucket loads. How is it that some people can develop their own personal 'resilience' strategies and as a result, respond better to for example the pressures that work increasingly throws at us?

Leadership
Ever the optimist, Michael McGrath's natural leadership style and the principles he strives for have in part been shaped by his hero, Sir Ernest Shackleton but also by his Jesuit education that today has profoundly influenced his understanding of: Values-based leadership, Taking personal responsibility and Helping others.

Overcoming Adversity
A daily occurrence for Michael McGrath; in his view, it builds personal resilience and character. Every difficulty we successfully confront in life serves to strengthen our will, our confidence and our ability to face head-on, process and conquer future challenges.

Risk
Learn how Michael's single-mindedness, personal drive and obsessive focus on outcomes were critical success factors. From the role his support team played, the extensive research, sponsorship and contingency planning carried out to the sourcing of specialist advisers to help with his mental and physical training, Michael shares the tools that helped him address the multitude of risks that such expeditions attract.

Change
Through compelling examples, Michael shares how through circumstance, change was forced upon him and how today, he extols the virtues and benefits in establishing 'Change Champions' to help support and drive organisational change programmes.

Teamwork
Whilst most productive teams share common goals, even a common vision, Michael McGrath's perspectives on teamwork reinforce the view that whilst the ends may sometimes differ, the means by which one gets there are the same. A colourful account of teamwork with the occasional Noel Coward reference around 'mad dogs and Englishmen go out in the midday sun' give a unique insight into how the impossible was made possible.

Charity Entrepreneurship
Find out what it's taken for Michael McGrath to build a multi-award winning niche family charity with national reach. From Michael's observations of 'entrepreneurialism', why is it that some charity leaders are increasingly fatigued by the term and unsure how to embrace it. Learn why combining a passion for one's cause with an eye for where a charity could get the best return is vital. In Michael's view, charities must play to their strengths in leveraging their assets whilst also recognising their weaknesses. In today's world of immediacy driven in part by technology, nurturing that entrepreneurial spirit is something that Michael strongly advocates.
Testimonials
Considering booking Michael McGrath for your event? You may find the following client testimonials and comments helpful. To enquire further about Michael McGrath for corporate and private bookings, click here or call us on +44 (0)1372 361 004.
Michael McGrath is a phenomenon. He shares lessons in leadership, lessons in handling change and lessons in life, introducing audiences to the possibility of thinking and acting differently.
Michael is a truly inspirational speaker whose personal story and courage encourages all leaders to reflect on their own approach, think about the way they engage with those around them and focus on what's possible in life.
It is not often that speakers get standing ovations and yet Michael McGrath inspires that in people. Always well prepared, always on message and always professional. I look forward to further opportunities to work together.
Michael McGrath was the guest speaker at all four of our All Staff Conferences. The lessons and experiences he shared on leadership, change and overcoming adversity were truly inspirational and thought provoking. Not only did he receive standing ovations at the events, but we continue to receive excellent feedback, 3 months on, as staff have put into practice and learned from the principles he outlined. I would certainly recommend him.
Michael McGrath is a fascinating speaker with great passion, clarity and a wonderful ability to engage an audience.
Michael is an inspiration.
Motivating, thought provoking and moving.
My grandfather Ernest Shackleton listed the qualities he looked for in a polar explorer as optimism, patience, imagination, idealism and courage. I believe that Michael possesses all of these.
You may also be interested in...