Matt Lindley
Commercial long-haul pilot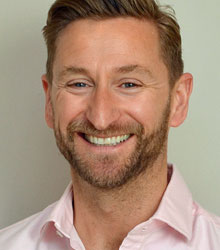 About
Matt Lindley was an RAF pilot who specialised in flying HM The Queen, the Royal family and Government ministers worldwide for over 10 years. He is now a commercial long-haul pilot for a major UK airline.

In addition to flying, Matt runs workshops and delivers keynotes speeches based on lessons learnt from aviation, aimed at reducing human error and improving human performance in the workplace. He uses fascinating case studies from aircraft accidents, applies basic psychology and offers lots of 'take home' messages for any audience.

Matt explains why individuals make mistakes and provides proven, easily implementable solutions, to mitigate human error in the workplace.

In addition, Matt presents talks on Diversity and Inclusive Leadership. He was one of the first gay pilots in the service. When he joined the Royal Air Force in 1995 it was against the law to be homosexual, but he had a passion for flying and desperately didn't want his sexuality be a barrier to fulfilling his ambition to become a Fast Jet Pilot.

Whilst "in the closet", Matt shut out his inner feelings and in doing so was able to fulfil his ambition, qualifying as a Fast Jet Pilot. Matt describes his journey and the impact on his mental health whilst hiding his true self and operating in a macho, intolerant work environment.

During this journey Matt had no one to turn to, his performance faltered, his stress levels became unmanageable and he failed his RAF 'Top Gun' course. Matt links his mental well-being, stress, reliance to performance and productively.

He eventually moved to the Royal Squadron and met an inspirational leader who developed trust and inclusion. As a result when the law changed he eventually came out. His leader's exemplary inclusive style changed his life, both personally and professionally.

Although Matt's diversity talk has an LGBTQ+ theme, it holds relevance to wider issues of marginalisation, be it gender, working parents, or ethnic minorities.
Speech Topics
Matt Lindley is a highly sought-after keynote speaker and motivational speaker. Below are his most-requested speech topics.

Diversity & Inclusion
As one of the first 'out' RAF pilots when the ban on serving members of the Armed Forces was lifted, Matt Lindley talks about his life in the armed forces, being in a hostile environment as a closeted gay man, to be being accepted in a culture that was transformed. He discusses mental health, stress and performance, resilience and how to be an inclusive leader.

Human Performance & Error — Lessons From The Flight Deck
A series of talks that use the starting point of when the aviation sector killed thousands of passengers in the 1980s and '90s by having outdated leadership and cultural models.

Egos, hierarchies and a lack of soft skills led to many avoidable crashes. Matt Lindley use these lessons and how the aviation industry has been transformed to discuss leadership, human error, performance and stress in industry.

This wide-ranging subject mater appeals to many sectors trying to move away from traditional structures and adapt to modern challenges.
Testimonials
Matt's ability to use his extensive experience in the airline industry, to clearly articulate lessons and solutions to the vitally important topic of patient safety, is refreshing and insightful. Human factors, attitude to risk and creating a just culture are key areas to focus and continually improve on, whatever the industry – but particularly relevant to pharmacy. A GREAT DAYS TRAINING.
Matt's natural ability to connect with his audience along with his energy and positive vibe absolutely captivated our audience with his incredible story. His grit and determination really resonated with so many people in the audience. The presentation that Matt put together really enhanced his speech. It was one of most captivating talks I've ever been to
Matt came in to speak to our law firm about the impact a manager can have on someone's life when they just listen. His talk was hugely powerful and emotional, but more importantly, it was based on real-life practicalities that we can all take forward into the legal workplace to help make a difference to those people around us.
Matt delivers a very clear and concise presentation on how to fine tune some of those softer skills which can often be overlooked in busy and highly pressurised environments - effective communication, dealing with workloads, delegating effectively etc. His presentations draw on interesting cross-sector experiences keeping participants engaged and providing for an enjoyable training. Participants are left with a clear understand of how their business practices can be tweaked to increase efficiencies. I would have no hesitation recommending Matt.
Assessing and managing risk". It was a great session, very interactive and managed to engage all the SME Managing Directors that were present. I would thoroughly recommend Matt to anyone looking for a keynote speaker on this area.
You may also be interested in...