Marc Hogan
Inspirational speaker with over 10 years experience as a sales professional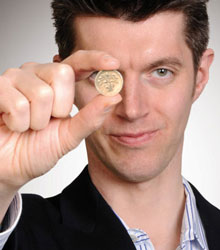 About
Marc Hogan is an inspirational speaker with over ten years experience as a Sales and Marketing Professional. Audiences love his unique approach to personal and business achievement underpinned by his 7 Keys for Success, and have been inspired by Marc's S.A.L.E.S. and Inspirational Communication – a vital tool to enable businesses to regenerate their communication and influencing skills.

Marc's Presentations - Funny Business:
An inspiring talk packed with humour and a serious business message. Can a sales and communications trainer become an Edinburgh Festival comic in less than 12 months - all to win a £1 bet?

Whilst giving a talk to a business audience, fellow speaker Jim Lawless challenged Marc to perform a 21 night, one man comedy show at the world's largest comedy event - the Edinburgh Fringe Festival.

His unique and dynamic style has made him a popular fixture on the speaking circuit.
Speech Topics
Marc Hogan's personal and inspirational journey into comedy, complete with setbacks, triumphs and even a few tears and tantrums, will inspire the audience to see new possibilities and will teach them how to take personal action to achieve their goals. They will leave the room energised and empowered, ready to take on whatever lies ahead.

Audience Profile:
From senior management to executive level. It can be tailored to focus on dealing with challenges, taking risks, presentation skills, networking and team building.

Inspirational Communication / Personal Impact:
We all know that we communicate with our body, voice and words but what about our attitude? Your attitude to presentations, meetings, customer service, networking, negotiations or even other people, affects your body, voice and words and more importantly, how the person you are communicating with perceives you!

The first step to Inspirational Communication is to understand and if necessary challenge those attitudes. The second step is to learn the communication skills that inspire others. In this dynamic and interactive course, Marc utilises cutting edge psychological techniques complemented by good old fashioned common sense, to leave audiences excited and energised, ready to put their improved communication skills to use back in the work place.

The Inspirational Communication programme is tailored to fit the audience's specific outcomes, from presenting to negotiation to networking. It can take the form of a 60 minute keynote speech or a more detailed one day training event.

Audience Profile:
Depending on your specific needs Inspirational Communication can be tailored to run for management teams to sales and marketing departments to accounts and administration.

S.A.L.E.S:
Whether you are conscious of it or not, we all sell everyday. Some of us are paid to sell a product or service to our customers, others need to present our ideas to the Board, ask for a pay rise, or even try to convince our children to eat their greens.

No one likes to be "sold to" and God forbid that somebody tries to "close" us. So, what if, rather than your customer being "sold to" you could solve their problems for a fair and reasonable fee?

Marc's 5 step S.A.L.E.S. system will not only inspire your team, improve their communication skills and increase their sales. It will also ensure that they and their customers enjoy the process a whole lot more!

Depending upon audience size and organisational requirements, the S.A.L.E.S. system can be delivered as either an inspiring 90 minute keynote speech or for those looking for more in-depth knowledge it can be learnt over a one or two day training event.

Audience Profile: S.A.L.E.S. is specifically designed for sales management, face-to-face sales executives and customer service departments. It can also be tailored to tele-sales executives.
Testimonials
Amazing! Marc challenged, provoked and entertained our International Technical Team, no mean feat since the 20 high ranking delegates were from all over Europe and Asia. We all left the training with a new perspective and we have all put the skills to good use since the event!
Marc was able to provide a fresh spark of inspiration and provoke people to think beyond their favoured ways of thinking. Engaging, energetic and inspirational - great stuff!
The feedback we have had from participants has been extremely positive and some of your techniques could be witnessed in action during the day and later in the evening. We have all come away from the day feeling energised, motivated and more connected as a group. We really value the input you had into making this day a success.
Marc was definitely the best guest speaker we have ever had presenting at our User Group meeting, which is quite a feat considering we have had guest speakers who have climbed Everest and sailed around the world! - I can't praise him enough.
You may also be interested in...