Liz Johnson
Paralympic gold medalist for swimming. London 2012 and Beijing 2008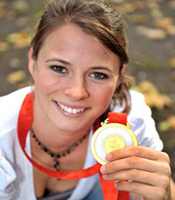 About
After being introduced to swimming at the age of 3 following advice that it would help with her cerebral palsy, Liz Johnson has been crowned Paralympic Champion, laid the final tile in the London 2012 aquatic centre, was bestowed the honour of reading the athlete's oath at the Opening Ceremony for the London 2012 Paralympic Games and claimed another Paralympic medal in her home Games.

At just 14, Liz was already competing at a national level, before making the British team shortly after. In 2006, Liz claimed two Gold Medals at the IPC World Championships, successfully building on the successes at the Athens Paralympics where she won a Silver Medal. A few years later Liz fulfilled a lifetime ambition by winning Gold at the 2008 Paralympics, dedicating it to her mother who sadly passed away during the Games. Fast forward 4 years and a plethora of World Championship medals, Liz added to her Paralympic medal collection at London 2012 as she set a new Paralympic record en route.

In addition to her swimming ambitions, Liz also has plans to pursue a career as an accountant, having graduated in 2008 with a degree in business management and finance and is an ambassador for 2012 partners BT and EDF. Away from the pool Liz has also featured regularly on That Paralympic Show and in ad campaigns for BT, including on London taxis with the next stop being a trip to the podium in Rio 2016!
You may also be interested in...