Jonathan Edwards CBE
Triple jump Olympic and World gold medalist, broadcaster and athletics pundit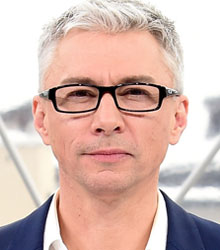 About
Jonathan Edwards' extraordinary achievements on the track have earned him a place in history as one of the World's greatest and most admired athletes. After a career that spanned some 15 years, Jonathan made his last competitive triple jump at the World Athletics Championships in Paris in 2003, signifying the end of an era for British Athletics. Jonathan first made the record books in 1995 when he obliterated the World Record at the World Championships in Gothenburg with an amazing jump of 18.29m, to date no one has even come close to this distance.

In a glittering career there were few titles that Jonathan did not win. However it wasn't until Sydney 2000 that he achieved his ultimate goal of winning Gold at the Olympics to return home to a hero's welcome.

Awarded the MBE in 1996 and the CBE in 2001 in recognition of his achievements, Jonathan remains passionate about his sport and is now equally as committed to broadcasting.

It was the BBC who first recognised Jonathan's potential off the track and he naturally became one of BBC Sport's key pundits and commentators covering all the major athletics events including the Olympics in Athens 2004 and Beijing 2008. Jonathan has since progressed effortlessly into presenting and is as comfortable broadcasting live as he is pre-recording. Jonathan has recently presented all of BBC Sport's coverage of the Indoor Athletics season and the majority of the Outdoor season and was previously one of the main faces presenting BBC's Songs of Praise for several years.

Jonathan was commissioned to be the front man for BBC1's landmark documentaries such as St Paul and Gods and Goddesses, both being met with great acclaim. He also took the opportunity to develop his on-camera skills and became BBC Look North's regional sports presenter. He then hosted a new prime time series of lifestyle programmes called Spirituality Shopper for Channel 5. Jonathan has also utilised his interest and degree in science to present his own Radio 4 science series Jonathan Edwards Looks In To....

Jonathan now holds a dream position having been selected to sit on the board of LOCOG as their athlete representative - the highest profile ex athlete in a senior position outside of the Chairman. He is Chair of the Sports Advisory Group, having played an important part in the success of the London 2012 bid as an Official Ambassador, and a member of the Athletes Advisory Group. He has also been appointed as the Deputy Chair of the London 2012 Nations and Regions Group, helping to ensure the benefits of the Games are maximised across the UK. He is a Lloyds TSB London 2012 Ambassador working closely with the bank up to and beyond the London 2012 Olympic Games.

Notably Jonathan has been required to take to the stage at countless high profile media gatherings being commissioned for the last four years by the International Olympic Committee to front their live major launches and announcements. He is an accomplished and eloquent public speaker.
Testimonials
I would like to thank Jonathan for the most inspiring and thought provoking presentation. The feedback we have received on the presentation has been overwhelming...
Engaging openness honesty, insight to challenges and pressure, how he dealt with it and the key to his success. He provided personal exposure to his views on success which were very useful and insightful - people warmed to him and wanted to listen to him. He attracted large audience and helped us finish the day with a wow factor.
Jonathan was truly inspiring....
He had researched the audience thoroughly and his presentation was both interesting and inspirational. In addition he was very personable and spent a lot of time meeting clients, signing autographs and posing for photographs.
Your speech was truly enlightening and stimulating and provided a unique insight into the challenges faced by an elite sportsman. It was undoubtedly one of the highlights of the conference and was extremely well received by the delegates.
His status as world/gold champion and as a household name meant that we were in awe of him particularly because of his achievements. People warmed to him and wanted to listen to him and he created a feel good factor.
Jonathan was excellent – exceptionally well qualified, warm and hugely professional and we had fantastic feedback.
Tags for Jonathan Edwards CBE
You may also be interested in...