John Archer
Award-winning comedy magician and the man who fooled Penn and Teller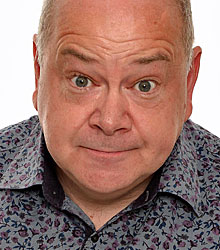 About
John Archer is a comedy magician who attacks the audience with all the skill and panache of a rampant bull with a hangover.

A roller coaster of idiotic sight gags and baffling trickery put John Archer in a class of his own. He's been working as a professional comedy magician for the past 13+ years and was working semi-professionally for 10 years prior to that.

Since turning professional John has won many awards both in the UK and abroad, including 'British Magical Champion of Comedy'. He has appeared twice at the Edinburgh Fringe in 1998 and 1999, starring in his own show and together with comedian and friend Tim Vine.

In 2011 he appeared on ITV's 'Penn & Teller: Fool Us' in which he was pitted against two of the world's greatest magicians, Penn & Teller from Las Vegas, and succeeded in fooling them!

In addition to performing at private functions, John Archer has delighted corporate clients around the world including: ICI, Playtex, Hilton Hotels, British Forces, Cannon UK, Hewlett Packard, Mellow Media, Global Mako, CSE, Mercedes, BMW, Proctor and Gamble, Pinder Set, Jaguar, Vodafone, British Gas, AA, Capital One Credit, First Choice Holidays, Princess Cruises, Cunard, and many more.

International appearances include: France, Spain, Denmark, Holland, USA, Curacao, Venezuela, South Africa, Japan, Philippines, Afghanistan, Malta, The Falkland islands. Oman, Dubai and Kosovo.

Television credits include:
Penn & Teller - Fool Us. - ITV1 (He fooled them)
Undercover Magic - Sky1
Rose d'or TV Awards Lucern 2005 -Scriptwriter
The Impressionable John Culshaw - ITV
Give us a Clue - BBC1
Claverdeek - BBC2 (Short film with Tim Vine)
The Sketch Show ITV Series 1 and 2 BAFTA - (Writer)
Alter Ego - ITV (Writing and appearing with Jon Culshaw)
Fluke - Ch4 (Writing and appearing)
It's A Knockout Series 2 - Ch5 (Writer)
It's A Knockout Christmas Show '99' Ch5 (Writer)
Tim Vine's Christmas Present - Ch5 (Writing and appearing)
Whittle - Ch5 (Writer)
Not The Jack Docherty Show - Ch5 (Writing and appearing)
Fort Boyard - Challenge TV (Writer)
Fort Boyard Takes on the World - Challenge TV (Writer)
Testimonials
You could put John Archer anywhere and he would kill an audience!
Booking an act for my Dad's 70th birthday, I wanted a great act and went straight to John Archer- his reputation in the magic world is among the very best. Hysterically funny, and perfectly pitched for the occasion. He made the evening. I'd recommend him unreservedly.
It saddens me that in leaving the full-time professional world of television when I did, I forsook the opportunity to make John Archer into a star. Without doubt he represents for the new century what Paul Daniels did back in the eighties. Strong magic and great comedy seldom come in the same package. If Eric Morecambe - with an added touch of Les Dawson - had been born a magician, he would have been John Archer. His star must and will shine soon. Promoted carefully, he could even be as big as Tommy Cooper.
John Archer is so funny that it takes you a while to realise that he's also an outstandingly original and innovative magician. He is the outstanding magical entertainer of his generation.
You may also be interested in...