Graham Allcott
Personal productivity expert and Author (How To Be a Productivity Ninja)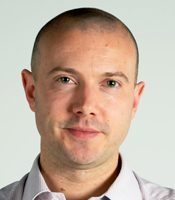 About
Graham Allcott is the founder of Think Productive, the UK's leading provider of personal productivity training and consultancy. Graham's transition from charity chief executive to freelance consultant inspired him to set up Think Productive.

Realising he would have to manage without a PA and his great team of 'do-ers', Graham began reading about personal workflow and productivity tools, developing his own ways of ensuring maximum productivity.

With a mission to revolutionise stuffy time management courses, Think Productive launched in April 2009 and has earned rave reviews from the likes of British Airways, The Cabinet Office, Blackberry, eBay, University College London and Barclays Commercial Bank for its practical, 'at-desk coaching' approach.

Away from productivity, Graham's background and other big passion is for the charity sector. A keen social entrepreneur, he is the founder of Fruitful Consulting, a social enterprise consultancy and Intervol, an international student volunteering charity. Previous roles include Chief Executive of Student Volunteering England and Head of Volunteering at the University of Birmingham and as an advisor to UK Governments red and blue on youth engagement policy.

He was the founding Chairman of READ International, an award-winning charity recycling English curriculum textbooks by sending them to Tanzanian schools, and is a trustee of the youth homelessness charity Centrepoint.
Speech Topics
How To Be A Productivity Ninja
Much of our best work – the quality thinking and quality doing – happens when we're able to fend off distractions and keep our attention on the things that matter. We're all overwhelmed with the amount of information and potential distraction we face in our work.

It's no longer enough to just focus on time management: it's time to think about how you manage your attention and focus, your projects and actions and your choices and habits. A 'Productivity Ninja' is calm and prepared, but also skilled and ruthless in how he or she deals with the enemy that is information overload.

It's time to ditch the old 'time management' mantras and focus instead on managing attention and learning to think like a Ninja. Learn to work smarter, not harder.

My Year of Extreme Productivity Experiments:
During 2013, Graham Allcott conducted a year of extreme productivity experiments in which he was the primary lab rat and his team were unwitting (yet mostly willing) participants.

Each month brought a new experiment, including: ONLY accessing e-mails on Fridays, using a dice to make decisions and working for 60 minutes a day, 7 days a week. Does your audience know what it means to be an extreme Productivity Ninja?

Why Work/Life Balance is Broken
Talking about work-life balance is one thing, but achieving it is another – especially when we are faced with a host of distractions, annoyances and other people's workflow: all affecting our time management.

Good habits can make work/life balance easy. But that's the thing about our habits – we develop unconscious competence that makes our productivity effortless, but we can also develop bad habits at the very same time. We can get lazy over time, too, and mistakes and errors can get made that wouldn't have been made if we were slightly more focused or consciously aware of what we were doing. In short, there is always room for improvement. There is never a final point to reach where it doesn't get any better and unfortunately, there is no secret formula for perfection.
You may also be interested in...