David Turner
Director of Agatha Christie's The Mouse Trap - the world's longest running play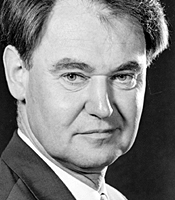 About
David Turner is the longest serving Director of Agatha Christie's The Mouse Trap - the world's longest running play.

Originally from West Sussex, David's professional career has seen him posted at many theatres, both close to home and throughout the British Isles. In 1980 he was appointed to Worthing's Connaught Theatre, where, during his six years in charge the much loved repertory theatre, he produced or directed over 70 major productions.

In 1987 he was invited to direct a new production of the world's longest running play The Mousetrap at London's St Martin's Theatre. In 1994 he was appointed Artistic Director and each year directs a new West End cast. On the 25th of November 2002 when 'The Mousetrap' celebrated its 50th anniversary, David was honoured by being presented to H.M. The Queen at a Royal Gala Performance.

"Agatha Christie's The Mousetrap has kept audiences guessing for five decades. The world record breaking production continues to enthrall, to entertain and to thrill audiences still flocking from every corner of the globe. In her own inimitable style, Dame Agatha Christie has created an atmosphere of shuddering suspense and a brilliantly intricate plot where murder lurks around every corner..."

The Mousetrap has been thrilling audiences from around the world for as long as HRH Queen Elizabeth II has been on the throne, and for the last 33 years the St Martin's Theatre has been the home of The Mousetrap, more than half of its record breaking 55 year run!

During this phenomenal run there have been no fewer than 336 actors and actresses appearing in the play, 101 miles of shirts have been ironed and over 400 tons of ice cream sold. Some cast members are in the Guinness Book of Records, David Raven as the 'Most Durable actor' for 4575 performances as Major Metcalf, and the late Nancy Seabrooke for a record breaking 15 years as an understudy.

The Mousetrap first entered the record books many years ago on 12th April 1958 when it became the longest running show of any kind in the history of British Theatre. In 2000 the set was replaced for the first time during the run at St Martin's Theatre, still to the same design as the original. This task was completed over a weekend without the loss of a performance.

David Turner's 'The Wicked Side of a Life in Theatre' is a most entertaining, humorous and informative after dinner presentation, that will delight audiences of all sizes and ages.
You may also be interested in...