Clarke Carlisle
Former professional footballer, mental health and diversity campaigner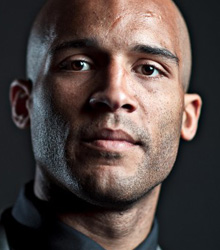 About
Clarke Carlisle is a radio and television presenter and former professional footballer. He has authored two documentaries, Football's Suicide Secret and the critically acclaimed documentary "Is Football Racist?" for the BBC and wrote a book about his career A Footballer's Life.

Widely regarded as one of the most eloquent professional footballers, the former PFA Chairman, Clarke was the first current professional footballer to appear on the BBC's Question Time. He can also claim to have won Britain's brainiest Footballer as well as appearing on three episodes of Channel 4 prime time quiz show Countdown.

Clarke Carlisle retired at the end of the 2012-2013 season after making over 500 appearances at senior level.

Clarke has experienced the very highs of professional sport. He has won promotion with both Blackpool and Burnley, represented his country and has played at the home of English football Wembley Stadium. However, in 2001 Clarke suffered a posterior cruciate ligament injury which sidelined him for a year, nearly ending his career.

Clarke Carlisle is an ambassador for the mental health charity Mind and the Premier League Kick It Out Campaign which promotes inclusion and equality in football. He is an excellent motivational and corporate speaker and host and is an honest and moving speaker in the area of Mental Health. Clarke now runs his own charity to raise awareness of Dual Diagnosis.
Speech Topics
Clarke Carlisle is open about his struggles with alcohol, depression and gambling – the strains of a multi-billion pound industry in which both fans and club believe they own you.

He's similarly candid about racism and the Kick It Out campaign. Clarke talks about diversity and culture change in a game traditionally associated with macho behaviour.

Suffering from depression and mental health issues throughout his adult life, Clarke speaks openly about his battle, working to break down the stigma around these issues.
You may also be interested in...