Charlotte Sweeney OBE
Award winning speaker on diversity, inclusion, wellbeing and change leadership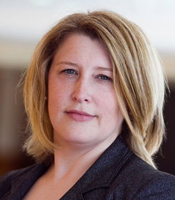 About
Charlotte Sweeney is an award winning accomplished global speaker and a fellow of the Professional Speaking Association, as well as an experienced and pragmatic change agent with over 20 years experience of leading significant change programmes in large global organisations, coaching, facilitation and training.

She is a strategic thinker with expert knowledge of equality, diversity, inclusion, health & wellbeing, change management, employee engagement and corporate culture shift at a global and local level, with a clear link to business performance.

She has created and delivered large scale Diversity, Inclusion and Wellbeing strategies for global organisations, including spending over three years as International Head of Diversity and Inclusion for Nomura International PLC, where Charlotte developed and implemented Nomura's first Diversity and Inclusion Strategy.

More recently Charlotte Sweeney created a business that supports companies with their cultural and change management agenda and has worked with clients in the private, public and not-for-profit sectors.

Charlotte holds a number of Non-Executive Directorships including a board position with an NHS Trust and is an external advisor on diversity and inclusion at the UK Government Department of Business Innovation and Skills.

She has won a number of awards for her groundbreaking work and is regarded as an influential thought leader. She writes for a number of professional publications globally, is on the editorial advisory panel of the Equal Opportunities Review, is also an international keynote speaker and a member of the Professional Speakers Association.

By combining the very latest business thinking with her expert knowledge of diversity, inclusion, wellbeing and change leadership Charlotte Sweeney creates a keynote that will be memorable, pragmatic and tailored for any audience. She does this by using business examples, personal experiences and, of course, humour.

Charlottes considerable business experience leading change across numerous continents and sectors as well as continuing to deliver and lead strategies for clients at the executive level to this day sets her apart from other speakers. She is a highly sought after speaker with an enviable catalogue of global and high profile clients.
Speech Topics
All of Charlotte Sweeney's speeches are tailored for each clients requirements. Her most sought after speeches include:

The Nine Traits of EPIC Leaders – EPIC Leaders know that 'Every Person Influences Culture'. This speech shares the key traits required of leaders to create an inclusive and engaging culture and enabling them to get the best out of their people.

Small Actions, Big Impact – Creating change in organisations doesn't happen over night and it is rarely one action that makes the shift required. This speech focuses on the small actions that can be taken on a daily basis from the Board Room to the Post Room to create a more diverse and inclusive workplace.

What HR Need to Know but Won't Ask – HR are seen as the custodians or gatekeepers to both talent and culture in many organisations – but how do they ensure that diverse and inclusive thinking is embedded into all they do? Research by the CIPD suggests more could be done. This speech articulates and shares practical examples of how HR, at all levels and disciplines, can truly make this 'part of the day job'.

The New Normal – The world is changing at a phenomenal pace – shifting demographics, the advent of new business models and expectations of a new workforce all play their part. Many companies commit to diversity and inclusion strategies at the highest level to respond to this only to fall at the first hurdle – turning words into action! This speech articulates to critical steps required to turn a great vision and aspiration into a reality, sharing on hand experiences along the way.
Tags for Charlotte Sweeney OBE
You may also be interested in...