Charlie Martin
LGBT game changer in motorsport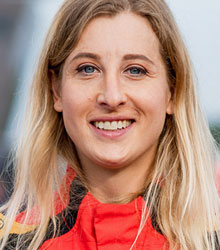 About
Charlie Martin represents a paradigm shift in motorsport that has never been seen before. She has captured the imagination of people around the world and her story has been shared on national television, in the national news, and in some of the most prestigious international publications.

As a trans woman, Charlie occupies a unique role within motorsport and within the LGBTQ+ community, making her a perfect fit for brands looking for a strong & charismatic ambassador to champion their ability to challenge the status quo.

Her fearlessness both in and out of the car makes Charlie one of the most eye catching and engaging drivers competing in international motor racing today. Her tenacity & self-belief have helped her to overcome the impossible and push for change when the odds were stacked against her.

Chrlie Martin started hill climbing at club level in a Peugeot 205 (in 2004), without any family history of motorsport. In 2014, she won her first race in France at St-Gouëno at the wheel of a Westfield SEiW, breaking the class record by 2 seconds! Hard work & determination enabled her to progress into single seaters & prototypes which she raced throughout Europe, competing in the Championnat de France de la Montagne & FIA European Hillclimb Championship.

Driving at speeds of up to 140mph on closed public roads requires huge amounts of skill and bravery, and Charlie achieved regular success in this challenging discipline learning to speak fluent French after three seasons of European competition.

Charlie has fought continuously to overcome adversity throughout her life, having lost both her parents at a young age. Entering motorsport without anyone supporting is hard enough, but she also realised she identified as transgender from as young as seven, transitioning to live as female midway through her career in 2012. She recorded her entire transition on her Youtube channel, helping to inspire 1,000's of people all over the World to begin their own journey.

In 2018, she begun a full season of circuit racing in the Ginetta GT5 Challenge, taking the brave step of coming out as transgender within motorsport on TDOV and aiming to improve LGBT visibility & acceptance within the sport she loves. Three class podiums quickly followed, helping raise the profile for her campaigning alongside charity Stonewall with initiatives at Silverstone for PRIDE at the British GT Championship in June.

She received a Motorsport Marketing Award in recognition for this World first and the 2019 Downforce People's Champion Award. She now works as a Sports Champion for Stonewall (Europe's largest LGBTQ+ charity), Patron for Mermaids, & Ambassador for Athlete Ally (USA).

She is now embarking on the ambition of a lifetime to make history as the first transgender driver to compete at the 24hrs of Le Mans, the greatest race in the World.

In a sport that lacks visible diversity, Charlie Martin stands out. She is changing perceptions and championing inclusivity.

Television & The Media
Charlie Martin has a very active media profile and makes regular appearances on television, radio & podcasts, whether that means speaking about LGBT awareness, racing cars or sprinting up a wall on Ninja Warrior. She has appeared on Good Morning Britain, TIME, ITV (News & Sport), BBC (National News & Sport, BBC3 & Documentary with Martina Navratilova), Channel 4, Sky (Sports News & Sports Women), LBC radio, BBC World Service, & regularly on BBC Radio Leicester.
Speech Topics
Being the same as your competition is never going to get you noticed. Charlie Martin is blazing a trail and breaking new ground in motorsport, which means being constantly in the media spotlight. So when you're proud of everything that makes you different, why not use that opportunity?

Charlie works regularly as an inspirational and motivational speaker, with organisations large and small, plus schools and universities, sharing her unique story.

She speaks with passion and candid honesty about the challenges she has faced, both in her personal life as a trans woman and within motorsport, repeatedly overcoming seemingly insurmountable challenges to be the person she is today.

Charlie's talks can be tailored to a client's particular brief, and her most popular speech topics include:
• How and why Charlie became a racing driver
• What it's like to race, driving a car at 170mph
• Transitioning in sport and how she nearly gave up
• The challenges of being female in a male dominated sport / industry
• Achieving the impossible when the odds are heavily stacked against you
• Why being your authentic self is the key to unlocking your potential
• How physical and mental preparation are critical when aiming for the top
Testimonials
I thought the session was fantastic and very inspirational, a great story of being your authentic self and not only overcoming challenges but flourishing.
If there is anyone to inspire you to follow your dreams with passion and determination, it's Charlie!
We've received some amazing and highly positive feedback, Engagement across the business was 96% for #ASOSFOL, which we wouldn't have been able to achieve without you being part of it.
Charlie was an inspirational speaker – our students hung on to her every word. She was assured, eloquent and talked passionately about her journey. Charlie made a huge impression on our staff and students.
You may also be interested in...