Carrie and David Grant
Television vocal coaches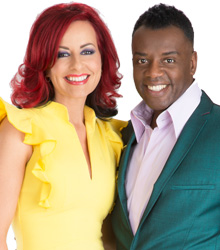 About
Carrie and David Grant are probably best known as judges and vocal coaches, on the massively successful TV talent shows, "Pop Idol" (ITV) and the BBC flagship programme "Fame Academy". They are current judges on BBC 1's BAFTA Award winning "Glee Club".

David Grant has had some 14 hit singles in the UK charts including the Top 5 duet with Jaki Graham "Could it be I'm falling in love". David was also nominated for Best Newcomer in the Brit Awards as lead singer of Linx. David is currently a regular presenter on "Songs of Praise".

Carrie Grant started as a dancer on TV then moved into presenting and session singing where she became one of the country's top session singers. Working with the likes of Diana Ross, Roberta Flack, Rod Stewart, Lighthouse Family, Fat Boy Slim and many others. Carrie currently presents for The One Show, covering most of their music items and many other subjects. She has also reported for The Culture Show and made documentaries on Al Bowly and Eva Cassidy.

In 1998 David and Carrie Grant recorded their highly acclaimed gospel album which went on to win them a prestigious MOBO Award as best gospel album for that year.

It was whilst singing for Take That back in '94 that David and Carrie were first approached to vocal coach the boys in the band. They had no idea of the journey they were about to embark on. Artists upon artist followed and their client list to date includes: The Spice Girls, Take That, Kimberley Wyatt, Will Young, Charlotte Church, Lemar, The Saturdays, Gwyneth Paltrow, Marvin Humes, Demi Lovato and many others.

As well as being seen as among the foremost vocal coaches in the UK Carrie and David Grant have also coached Senior Business Managers for the past 17 years. Interactively using the medium of music they have trained, amongst many others, The Foreign Office, The Home Office, Shell, TESCO, Body Shop, Costa, Whitbread, Pfizer, The NHS, Express Newspapers and BBC Worldwide.

Their vocal coaching book "You Can Sing" is a worldwide bestseller. They are the authors of "Jump Up and Join In" a 6 part children's book series and in 2008 David and Carrie were awarded a BASCA for their lifetime services to the music industry.
Speech Topics
Carrie and David take music and use it to bring a fresh approach to leadership and team building. They touch on "attitudes to change," the innovation needed to "stay ahead of the game," the passion required from the top downwards to lead others and how to successfully communicate a vision. They also look at the value of the individual - in a results orientated business environment people need the occasional reminder they are "human beings" and not "human doings."

Carrie and David lead their sessions with great passion teaching the participants how to sing. Whilst the aim is never to single out or humiliate, the experience is still confrontational but in a positive way. Taking people out of their comfort zones can often lead to cutting through status and conflict issues. How do people react to having to sing? Do they feel out of their depth? Do they find this experience an opportunity or a threat? Even this initial reaction can help people begin to analyse how they and their teams react to change. How passionate are they about their work? If they have no passion how can others around them (whether colleagues or customers) be expected to believe in the company's vision? How can teams work together to both innovate and implement a vision successfully?

Carrie and David suggest the answers to all of these questions by using singing as a metaphor. They coach from 8 to 1,000 people in either a training setting or an entertainment event.
Tags for Carrie and David Grant
You may also be interested in...