Amanda Stretton
Action-girl television presenter and racing driver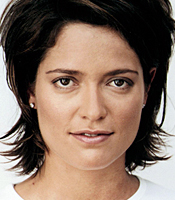 About
Amanda Stretton is one of the new breed of action-girl presenters: refreshingly fearless and up for a challenge. She was voted one of TV's rising stars by Zoo Magazine.

Amanda continues to present numerous motorsport shows including the 'Goodwood Festival of Speed' with Steve Ryder and the and the 'Goodwood Revival' with Murray Walker for ITV1, 'Race of Champions' and 'Grand Prix Masters' for Sky Sports, and 'Wrecks To Riches' with Dominic Littlewood for Discovery Homes & Leisure. Whilst her classic car series 'Dream Machine' (originally shown on FIVE) is being repeated on Discovery Homes & Leisure

Previously Amanda was the face of Channel 4's motorsport programming presenting 'Motorsport on 4' (including the British Formula 3, GT, MGF and Rally Championships), as well as the new 'ASCAR' (Anglo-American Stock Car Racing) series and 'UK Supercross'. She has also presented Channel 4's 'Driven', Sky Sports, the Travel Channel, EuroSport, NOW.com, Silverstone TV, and is one of the radio commentators for the American and European Le Mans Series.

This provides her with a perfect stage from which to pursue her passion for all things fast and dangerous, including bikes and cars which she has raced from the age of 19. Amanda became the first ever female driver to compete in the ASCAR (Anglo-American Stock Car Racing) Mintex Cup 2001, achieving 6th position, and is the first British woman to win an international long distance event at Spa, Belgium (September 2003). She competed in the British GT Championships 2003 in the first ever all female team, and the FIA Championships 2003 as the first ever British female driver.

Amanda's intelligence and up for it attitude, coupled with her don't mind breaking a nail outlook to presenting, sets her apart from the competition and puts her on the fast track to the top.
You may also be interested in...