Earvin 'Magic' Johnson, Jr
Former Los Angeles Lakers NBA Champion and Olympic gold medalist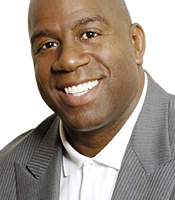 About
Role model, sports legend, and successful entrepreneur, Magic Johnson has overcome his share of challenges and pain. Johnson shines at the podium, inspiring audiences with the story of his stunning ascent, his philosophy for success, and his vision for a bright and promising future.

Earvin Johnson first earned the name "Magic" by Fred Stabley Jr., a local sports writer in Lansing, MI after watching the high school standout record a rare triple-double in a game as a sophomore. Mr. Johnson went on to lead his high school team to the state championship his senior year. He then went on to play for Michigan State, leading that team to the national championship in one of the most thrilling games in NCAA basketball history against Indiana State University and future Hall of Famer Larry Bird.

Magic Johnson played his entire professional career with the Los Angeles Lakers, racking up five NBA titles, three NBA finals MVPs, 12 All-Star appearances, three league MVPs and a gold medal as a member of the 1992 "Dream Team" Olympic squad. He transformed his position as point guard, ushering in a new style of play deemed "Show time" and often showcased his skills on the national stage against friendly rival Larry Bird and the Boston Celtics.

Magic Johnson's success has not been exclusive to basketball. Since his retirement, Johnson has been involved in many successful business ventures, has written numerous books, is the Chairman and CEO of Magic Johnson Enterprises and is the Founder and Chairman of Magic Johnson Foundation, Inc. Both organisations address the educational, health and social needs of children and young adults in urban communities. Founded in 1991, the Magic Johnson Foundation has become one of the most recognisable charitable organisations in the world.

Mr. Johnson is still actively involved with the NBA as an analyst for ESPN's NBA Countdown and as the Vice President and part owner of the Los Angeles Lakers.