Derek Redmond
Former British, European Commonwealth and World Champion sportsman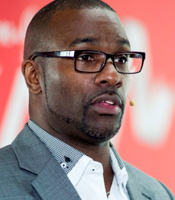 About
Derek Redmond is a former GB athletic legend, having enjoyed a long and successful athletics career during the 1980's and 1990's which saw him break the British 400m record twice and challenge American dominance of the event. He was a prominent member of the British 4 × 400m relay squad that took gold in the 1991 World Championships, the European Championships in 1986 and the Commonwealth Games of the same year.

He is perhaps best remembered for his performance in the 1992 Barcelona Olympics 400m semi-final which in 2012 was voted the 3rd greatest Olympic moment in history in a poll of viewers of the US broadcaster NBC. Tipped for a gold medal in the final, Derek tragically snapped his hamstring 250m into the semi-final race. However despite the agony, he picked himself back up and made it across the finish-line with the help of his devoted father who had broken through security to join him.

Despite being told he would never represent his country in sport again after his tragic injury, Derek Redmond went on to play professional Basketball for the Birmingham Bullets as-well as rugby union for both Coventry RFC and Stowe RFC.

With great background in reaching and maintaining peak performance and with the unique perspective his 1992 Olympic injury gave him, Derek is a truly inspirational figure able to use his own story to demonstrate successful strategies and techniques both teams and individuals can use to boost their organisation's effectiveness.

Derek has 17 years' experience motivational speaking and has built a sterling reputation as an enlightening and charismatic addition to any corporate event or industry conference. He always takes time to research his audiences and then carefully tailors message and delivery to the most specific requirements.
Testimonials
Derek Redmond provided some valuable insights into team building/leadership by expressing them in a sporting context. His delivery was professional, funny, honest and extremely engaging. Furthermore, whilst off the stage as well as on, he was very personable and endeared himself to everyone in the team.
Our audience was captivated by your energy and enthusiasm. Thanks for the inspiration.
The closing keynote session was the liveliest and most emotional of the congress. Derek Redmond, world 4x400m relay gold medallist, took to the stage with a vigour that few could have mustered at 10 o'clock on a Saturday morning. He led an enthralled audience through the story behind winning his gold medal and used the experience to emphasise that its teamwork that matters when it comes to achieving your goals. Many in the audience were moved to tears watching the footage from the Barcelona Olympics, then Derek skilfully lifted the mood again leaving people with a distinctive message using a Rubix cube.
There have been nothing but compliments on how well the event was run. Mr Redmond went down extremely well and participated in the event himself - just that extra bit of motivation for the teams!
The audience were fixated and in awe of Derek Redmond's achievements-they all wanted to shake his hand, many saying he was the best speaker they had ever heard - he really capped off our day on a high.
Derek Redmond's presentation was perfectly balanced and professionally delivered, with exactly the right amount of humour. It was packed with all the elements we wanted to make this event a huge success for our team of over 400, and everyone left on a tremendous 'high'. He was inspirational, motivational and relevant, especially as his own experiences can be so closely aligned with those we experience in business. A consummate professional and a delight to work with.
I would like to thank you very sincerely for your contribution to our KAM Summit, Dubai. It was really uplifting, enlightening and inspiring. This was truly one of the key highlights of our event. Not only your ambition, passion and determination is commendable, but your true spirit of "inspiring people and changing mindsets: From world class to world's best" is highly regarded and appreciated. Once again, thank you so much for your remarkable contribution
Relevant, passionate and uplifting. You did a great job for us, many thanks.
You may also be interested in...