Tom Owen
British actor and one of the stars of Last of the Summer Wine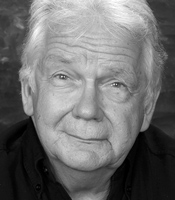 About
Tom Owen has rarely been off the television since making his TV debut in 1968 in Freewheelers and appearing in numerous television series including Wreckers at Deadeye, Tottering Towers, Wreckers at Deadeye, Z Cars, Upstairs Downstairs, The Bill, Minder, Horse in the House, The Onedin Line, 'The Piglet Files, Our Mutual Friend and The Hello Goodbye Man amongst many others. He views one of the highlights of his career was working with Dame Edith Evans in Harlequinade for Anglia TV.

Films include Goodbye Mr. Chips with Peter O'Toole, Unman, Wittering & Zigo with David Hemmings, Great Expectations with Michael York, Smokey Joe's Revenge for The Children's Film Foundation, Below Cassiopeia for The London Film School and Queenie with Kirk Douglas for ABC Television in the US.

He has run his own theatre in London, was Head of Drama at Thames Valley University and holds the prestigious Gold Medal from the London Academy of Music and Dramatic Art. He has also taught drama at all the major London Drama Schools. In 2010 Tom undertook the most challenging role of his career when he played Krapp at The Brewhouse Theatre in Taunton in Samuel Beckett's masterpiece Krapp's Last Tape.

In addition to his acting commitments, Tom has been touring his one-man show, Last of the Summer Wine – Treading the Boards, the story of his father, Bill Owen, who played Compo for twenty seven years, himself and of course Last of the Summer Wine. Television history was made when Tom joined the series in 1999 following Bill's death. Never before had a father's real life son gone into the same series playing his character's fictional son.

In his after dinner speech Tom will let you in on the secrets of the world's longest running television comedy series. Full of gentle humour, just like the show itself, he'll also tell you about his father and their lives together as actors and how they both landed up in the same television series. There was so much more to Bill Owen than Compo. Bet you didn't know that he wrote hit records for Sasha Distel, Matt Monro, Cliff Richard and a number one for Ken Dodd ! Tom would be happy to sing a couple of his father's songs if required. The evening will be full of anecdotes, laughter and fun!
You may also be interested in...