Terry Venables
Legendary English football manager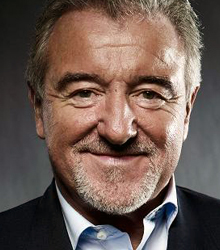 About
Terry Venables is a name synonymous with success in English football. The former coach is the only English player to have represented his country at all possible football levels, an achievement that can never be equalled. He was also commentator for ITV for the most important football events world-wide.

Super TV soccer pundit, part time crooner and after-dinner speaker extraordinaire, Terry Venables has a place in the heart of the nation. His warm, embracing smile and seemingly endless flow of anecdotes keep him in high demand.

Terry's football career started in 1958 when he joined Chelsea Football Club as a junior. In 1962 at the age of 19 he was appointed Chelsea Club captain which made him the youngest ever captain of a First Division Club, a record that still stands.

His move to Tottenham Hotspur led to Venables being awarded an FA Cup winner's medal in 1967. Terry Venables is the only English player to have represented his country at all possible footballing levels, i.e. Schoolboy, Youth, Amateur, Under 23's, Football League and Full International. This is an achievement that, due to charges in the footballing structure in the UK, can never be equalled.

Appointed manager of the top Spanish club Barcelona in 1984, He then led them to win the Spanish Championship in his first year and to the European Cup Final the following year. In 1987, Venables was appointed manager of Tottenham Hotspur FC whom he led to a record breaking eighth FA Cup win in 1991.

1994 saw Venables appointed as England manager, leading the team to the semi Finals of Euro '96, only to be beaten in "sudden death" penalty shoot out after Gareth Southgate infamously failed to convert for England.
Speech Topics
Former England Football Manager, Terry Venables, is a charismatic and engaging speaker whose presentations are a perfect mix of humour and inspirational ideas.

A relaxed and confident communicator, Terry is an ideal choice, whether he's delivering a keynote motivational presentation, where he draws upon his considerable experience as a player, coach and manager to inspire and motivate audiences with parallels from the world of football juxtaposed in a business setting, or speaking in a more informal after dinner setting and discussing 'The Beautiful Game' and talking about his illustrious career as both player and manager, which took him across the globe.

'El Tel', as he's become known, is the elder statesman of British Football whose career as a player, coach and manager has scaled the heights few have experienced, and he enjoys nothing more than talking to an eager audience about an entire lifetime in the sport.
You may also be interested in...