Stavros Flatley
Britain's Got Talent finalists - comedy dancers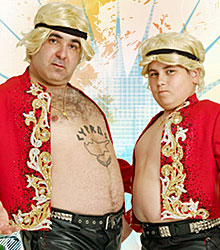 About
Demetrios and Michalakis are father and son and describe their act as two fat versions of Michael Flatly with a Greek element. This act originates from when Demetrios owned a Greek restaurant seven years ago. In the restaurant he would provide entertainment to his customers after their meal. He took centre stage and would perform acts such as Stavros Flatly. His son occasionally visited the restaurant, however he had only heard what his dad did, he never saw the act.

Demetrios noticed an advert for Britain's Got Talent and thought it would be funny to enter. Michalakis said that "if you enter dad I'll do it with you". Demetrios taught Micalakis their routine and he picked up all the moves extremely quickly, considering he'd only ever danced at weddings and parties!

Britain's Got Talent was their first big performance and Demetrios is extremely proud of his son. They both love it and think it's the funniest thing they have ever done together.
Video
Click below to watch video footage of Stavros Flatley. To enquire further about Stavros Flatley for corporate and private bookings, please click here or call us on +44 (0)1372 361 004.
Books and DVDs
Below you'll find products by Stavros Flatley which may be available for purchase. Click the image to view on Amazon's website. Clients often like to purchase books and other merchandise as autographed give-aways at events where Stavros Flatley is appearing. For bulk purchases, please speak with the Booking Agent handling your event.
You may also be interested in...