Status Quo
Iconic British rock band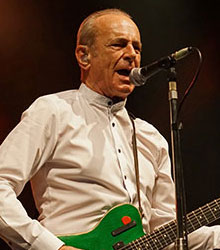 About
Status Quo are part of the fabric of British rock and have made the genre what it is today. Despite the sad passing of Rick Parfitt in December 2016, Francis Rossi is still performing live shows and bringing the Quo's distinctive music to private and corporate events around the world.

Needing no formal introduction, here is a potted history of how they formed.....

1962 - In the Second Year at Sedgehill Comprehensive School, Beckenham, Francis Rossi teams up with fellow orchestra member, Alan Lancaster and another friend, Alan Key. With two guitars and an organ plugged into one Vox AC30 amp that had been bought for Lancaster as a Christmas present, they start to practise, Alan is soon replaced by Jess Jaworski on organ and Barry Smith joins the band on the drums. Originally called The Scorpions, the band change their name to The Spectres and play their first gig at the Samuel Jones Sports Club in Dulwich, South London.

1963 - While the Spectres rehearse at the nearby Air Cadets base in Dulwich, they meet John Coghlan, then drumming in a band called The Cadets. John soon replaces Barry on the drums and the band start to write their own material.

1964 - After a year of solid rehearsals, the band begin to attract a wider audience. Roy Lynes joins the band playing a Vox Continental organ. They meet Pat Barlow, a local gas fitter who claims to have contacts in the music business. Pat becomes their manager and encourages them to travel further afield for gigs. A residency at the legendary Cafe Des Artistes in London's Fuham Road follows.

1965 - The Spectres and Rick Parfitt who was playing with his band 'The Highlights' first meet at Butlin's in Minehead while playing summer seasons. At the end of the season Rick and Francis, who have become firm friends, decide to work together in the future.

1966 - Songwriter Ronnie Scott, who writes with Rock 'n Roll singer Marty Wilde plays a tape of The Spectres singing the Lieber/Stoller song 'I (Who Have Nothing)' to John Schroeder, a producer and talent scout and the band sign a five year deal with Piccadilly Records on July 18th .They release two singles, the first one being 'I (Who Have Nothing)' and the second 'Hurdy Gurdy Man' written by Alan Lancaster, both of which sink without trace.
The Highlights meanwhile, undertake a European Cabaret tour.

1967 - Rick Parfitt quits The Highlights following an after gig argument in Liverpool when his twin sister co-stars attack him with their stillettos. The Spectres complete a spectacular hat trick of flops with their third single 'We Ain't Got Nothing Yet'. They change their name to Traffic Jam, release another flop, a song entitled 'Almost But Not Quite There' (the first release written by Francis Rossi) and then settle on the name Status Quo. Rick gets a call from Francis and joins the band in time for the November release of 'Pictures Of Matchstick Men'.

Since then Status Quo's total world-wide record sales exceed 118 million units, they have recorded 64 British hit singles - more than any other band - 22 of which have hit the Top Ten and made 106 appearances on BBC TV's 'Top of the Pops' - More than any other group.

In the band's history, it's estimated that Status Quo played over 6000 live shows to a total audience in excess of 25 million people. In doing so, the band travelled some four million miles and spent 23 years away from home.
Books and DVDs
Clients often ask about purchasing books for giveaways and delegate packs. Below you'll find a selection of products by Status Quo. Click the images to view on Amazon's website. For bulk orders, please speak with your Booking Agent.
You may also be interested in...