Sir Richard Hadlee
Former New Zealand cricket player and county player at Nottinghamshire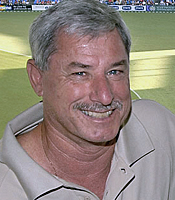 About
Sir Richard Hadlee is a former New Zealand Cricket player. He played in 86 Test Matches and 115 one day internationals in a career spanning 19 years. He was the first bowler to capture 400 test wickets and held the record as the highest wicket taker for over 5 years. Sir Richard also held two other long standing records, 5 wickets in an innings 36 times and 10 wickets in a match 9 times.

Sir Richard spent ten years playing county cricket for Nottinghamshire, during the 70's and 80's, which was a very successful era in the history of the club. In 1984 Sir Richard became the first player in 17 years of English County Cricket to complete the converted double - taking 100 wickets and scoring 1000 runs in the same season. He was Wisden's player of the year in 1984, and was knighted for services to cricket in 1990. He remains the only player to be knighted while still playing the game
.
In New Zealand he is regarded as on of the countries greatest ever sportsman, and has received many sporting awards including Sportsman of the Year on two occasions, Sports person of the decade and Sports person of the last 25 years.

Since retiring from cricket in 1990, Sir Richard has been actively involved in cricket commentary, selection and management. He has written a book and is a regular newspaper columnist. Since 1990, he has been the Bank of New Zealand Ambassador.

Sir Richard has become a highly sought after speaker. He regularly travels around Australasia, attending conferences as a keynote, or after dinner speaker.

Sir Richard can tailor his address to meet the message a corporate is looking for i.e. - motivation, goal setting and achievement, or on a lighter address, with sporting anecdotes.
Books and DVDs
Clients often ask about purchasing books for giveaways and delegate packs. Below you'll find a selection of products by Sir Richard Hadlee. Click the images to view on Amazon's website. For bulk orders, please speak with your Booking Agent.
You may also be interested in...