Sir John Banham
First Controller of the Audit Commission and Former Director General of The CBI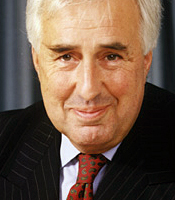 About
Sir John Banham is a highly successful businessman and a former marketing director. He was Director General of the CBI (Confederation of British Industry) from 1987-1992. Sir John is the author of numerous reports on management, health and local government services.

Sir John Banham is also a former Chairman of Whitbread PLC, Geest PLC and ECI Ventures Group, a leading provider of venture capital for mid-market management buyouts. Sir John was the Chairman of Kingfisher PLC from 1996 to December 2001, when he stood down following a successful sale/de-merger of the Group's General Merchandise business and properties.

He was Chairman of Tarmac PLC from February 1994 until March 2000 when the Group was acquired by Anglo American PLC in an agreed bid following the de-merger of Carillion PLC. Sir John was the Chairman of the Government's Retail and Consumer Affairs Forseight Panel from 1998 to April 2001.

In 1969 Sir John Banham joined the management consultants, McKinsey & Co, becoming a Principal in 1975 and the youngest ever British Director in 1980. During this period he gained wide industrial experience in the UK, the United States and Europe. He was directly responsible for major consultancy assignments with a variety of leading UK companies in engineering, aviation, food processing, mineral extraction and other manufacturing and service groups at critical stages in their development.

Sir John was the first Controller (Chief Executive) of the Audit Commission when it was established in 1983. The Commission was set up to monitor efficiency and seek better value for money in local government. Under Sir John's leadership it identified improvements worth over £2 billion a year and launched a number of reforms. He held that position until 1987 when he left to become Director-General of the CBI.
Speech Topics
Sir John Banham is a distinguished speaker and has addressed companies and organisations across the country. He is a highly regarded business speaker and he regularly appears on television and radio business programmes.