Sir Gerry Robinson
One of the UK's foremost businessmen and former Chairman BSkyB And ITN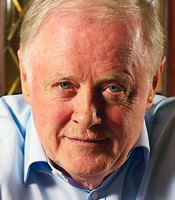 Copyright © Channel 4
About
Gerry Robinson began his career in 1965 in the cost office of Lesney Products, (Matchbox Toys) after leaving St Mary's Seminary at Castlehead. During his time at Lesney he progressed through various accounting roles to become Chief Management Accountant in 1974. He also, during that time, qualified as an ACMA.

In 1974 he moved to Lex Service Group as the Management Accountant for Lex's Volvo network. By 1980 he had become Financial Controller and Finance Director of Lex Industrial Distribution and Hire. He left Lex in 1980 to become Finance Director of Grand Metropolitan's UK Coca Cola business. A year later Gerry became its Sales & Marketing Director and then its Managing Director. In 1983 he was appointed Managing Director of Grand Metropolitan's troubled International Services business and went on to become Chief Executive of the whole Contract Services division which in that year had lost some £10.5m.

In 1987 he led the UK's then largest management buy-out with the £163m purchase of the Division, subsequently renamed the Compass Group. The Compass Group was later floated on the London market.

Gerry Robinson joined Granada in October 1991 as Chief Executive and was Chairman from 1996 until 2001. He has also been Chairman of BSkyB PLC, ITN, Arts Council England and Allied Domecq PLC. Currently Chairman of Moto Hospitality Ltd.

He has led a business series for the BBC, "I'll Show Them Who's Boss" and written a book of the same title on business leadership. He has more recently presented a three part programme for BBC2 titled "Can Gerry Robinson Fix the NHS?" and the follow up programmes "Can Gerry Robinson Fix the NHS? One Year On" and "Can Gerry Robinson Fix Dementia?". He has appeared on numerous chat shows and current affairs programmes on both TV & radio in the UK and Ireland.

Gerry Robinson was awarded a Knighthood in the 2003 New Year's Honours for Services to the Arts and Business.

In July 2005, Gerry set-up a management company, which specialises in acquiring and turning around struggling businesses.
Tags for Sir Gerry Robinson
You may also be interested in...