Simone Bienne
Television presenter. Renowned psychosexual and relationship therapist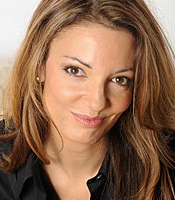 About
Simone graduated with a Degree in Politics from Manchester University and went on to gain a Postgraduate Diploma in Broadcast Journalism. At Granada, she presented the regional news bulletins on GMTV and This Morning.

Whilst working at Capital FM, she covered special events such as 2000-2001 BAFTA's, The Brits, Record of The Year, Party in The Park and a New York Special. She presented Capital Christmas Live - fronting her own three hour show Capital Dance Divas and Madonna's exclusive Brixton gig for Capital.

She covered the launch of the MOBO's in Las Vegas, Las Legas Uncovered, and she also co-presented Morning Zoo, KLUC's Breakfast Show - Vegas's number 1 Radio Station. Simone also writes features for magazines such as Cosmopolitan and Asian Woman.

Simone Bienne is a popular awards host and has presided over events such as the AM to PM Awards, Pharmacy Business Awards, GG2 Awards, The Asian Woman of Excellence Awards, Product of The Year Awards and countless others.
Testimonials
Simone is an outstanding corporate host. The positive feedback about her from our guests at The Pharmacy Business Awards was overwhelmingly. My team also enjoyed working with her. Without doubt, we will be using Simone again.
Professional, witty and an accomplished presenter.
Thank you on behalf of Sony UK Ltd for presenting at our recent Conference in Rome; your professionalism was much appreciated and established the right atmosphere for us to achieve our goals for the coming financial year.
Simone is a fantastic presenter and a pleasure to work with. Professional, positive and very good at managing guests. Her presentation of our channels saw our sales target greatly exceed our already high expectations.
You may also be interested in...