Shirley Robertson OBE
Scottish sailor and double Olympic gold medallist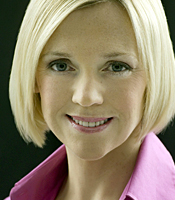 About
Shirley Robertson OBE made it in the history books by becoming the first British woman to win two Olympic Gold Medals at consecutive games, Sydney 2000 and Athens 2004.

Born July 15, 1968 in Dundee, Shirley started sailing at the age of 7 in a Mirror Miracle dinghy which her father built from a kit in the garage of their home in Clackmannanshire, Scotland and they sailed on Loch Ard in the Trossachs. A determined child with the ability to focus and believe that you can achieve anything with hard work and by listening to those around you paid off, she quickly got the bug and her quest for an Olympic gold medal started after she graduated from Heriot-Watt University in Scotland in 1990.

By the late 1990s she had won silver medals at the 1998, 1999 and 2000 Europe Class World Championships and competed in the 1992 Barcelona Games and 1996 Atlanta Games. In 2000 Shirley proved beyond doubt that she had mastered her class by winning gold at the Millennium Olympic Games in Sydney.

In 2000 Shirley Robertson was voted ISAF World Female Sailor of the Year, she was awarded an MBE for her services to British Sailing and in 2001 Shirley married Jamie Boag. In 2001 she switched to the new Yngling class and her team finished 14th at the World Championships. This new direction was rewarded with Shirley's historical second Gold Medal at the Athens 2004 Olympic.

In 2005, Shirley took a year off Olympic sailing to focus on big boat sailing, a budding TV career, and as an athlete delegate to the successful London 2012 bid, Shirley was also awarded an OBE in this year.

In January 2006 Shirley Robertson became the regular presenter for CNN 'Mainsail' and later in the same year Shirley and husband Jamie Boag took on a new challenge welcoming their twins Annabelle and Killian into the world. 2008 saw a new challenge, Shirley was the only female skipper competing in 5 race series of the iShares Cup at the helm of J.P.Morgan Asset Management Extreme 40, she successfully won the first event on the circuit in Lugano (Switzerland).

Although Shirley was not competing on the water in Beijing, she still had ringside seats to all the action as she took up a new role as a BBC Olympic sailing commentator. Her role with the Olympics continues through her involvement with the London Organising Committee of the Olympic Games (LOCOG) Sport Advisory Group. Shirley was back at the helm of an Extreme 40 for the iShares Cup 2009 circuit, this time as skipper of Team iShares for a 6 race series. She then immediately took over the helm of Rumbo Almeria Extreme 40 for the Extreme Sailing Series Asia 2009 /10.

During 2012 Shirley retained her role with LOCOG's Sport Advisory Group throughout the London 2012 games and was once again back in her ringside seat as the BBC Olympic sailing commentator in Weymouth. She also became the only woman to take the helm on the super yacht circuit steering the stunning 45-metre Dubois designed Salperton in three regattas in the Caribbean and Sardina.

Shirley Robertson OBE continues to present and produce CNN's monthly sailing TV programme 'Mainsail' and along with speaking engagements and charity work remains an inspiration as an Olympian, TV Presenter, business woman and mother.
Speech Topics
The BBC and CNN international have both identified Shirley Robertson's talent as a communicator, as have those who have heard her talk to a live audience.

Of course Shirley has a compelling and inspirational story to tell, yet her story is just one aspect of her work in this area. From team building, media training and motivational sessions to groups of all sizes, to hosting major conferences and award ceremonies – Shirley combines an intelligent and well prepared delivery with spontaneity, charm and an infectious sense of humor.
Testimonials
Considering booking Shirley Robertson OBE for your event? You may find the following client testimonials and comments helpful. To enquire further about Shirley Robertson OBE for corporate and private bookings, click here or call us on +44 (0)1372 361 004.
There may be another Olympic double Gold medalist who can inspire an audience, motivate your team, deliver a compelling and unique management training day or engage so successfully with clients from all walks of life or nationalities, but I really doubt it. Having worked with Shirley Robertson in these capacities for several years I can say she is quite exceptional and is an amazing ambassador for any company. Shirley's versatility, extraordinary media ability, touch with clients and staff alike combined with an infectious personality are as memorable and special as her Olympic record."
Tags for Shirley Robertson OBE
You may also be interested in...