Sergio Zyman
Marketing visionary and former Chief Marketing Officer for Coca-Cola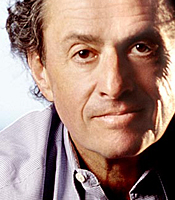 About
World renowned as chief marketing officer for The Coca-Cola Company, Sergio Zyman returned the corporation to market-giant status and was named one of the three great pitchmen of the 20th Century by TIME magazine.

A candid, charismatic contrarian, Sergio Zyman offers audiences practical proof and matching strategies that marketing goals must drive corporate action. He believes that a disciplined approach to marketing yields success, and that companies who guess at their marketing strategies do so at their own peril. A master of unconventional wisdom, Sergio Zyman literally wrote the books that define today's market strategies: The End of Marketing As We Know It and The End of Advertising As We Know It. His latest, Renovate Before You Innovate, explains the tools managers need to revitalise their marketing strategies and sustain their growth rates. This book challenges conventional business wisdom and helps companies make smarter decisions.

Sergio Zyman was born in Mexico City and began his career with management positions in Japan, Brazil, Guatemala and New York before moving to Atlanta to begin his first of two tenures with The Coca-Cola Company. His first residence was highlighted by a series of launches of revolutionary products such as Diet Coke, Cherry Coke and New Coke (a product not well received by consumers at the time, but one that many believe simply was an idea far ahead of its time - a theory well supported by the numerous cola flavours and formulas that are popular today).

Sergio departed The Coca-Cola Company in 1988 and formed a consulting firm with a client roster that included 7-11, Miller Brewing Company and several other large companies. He was influential in the positioning and development of the strategy that resulted in the election of former Mexican President Vincente Fox. However, Roberto Goizueta, former Chairman of Coca-Cola and a true believer in Sergio Zyman's forward thinking, persuaded him to return to Coke in 1993 to hold the first Chief Marketing Officer position ever created in any company. Zyman re-conceptualised the company's marketing strategy and boosted worldwide annual sales from nine to 15 billion cases - the most explosive growth in the company's history.

Sergio Zyman has been hailed as one of the most dynamic and charismatic keynote business speakers in the world. He energises audiences with his entertaining and bold, unpredictable style. He speaks on non-traditional growth strategies, the role of marketing in corporations, the similarities between the political process and the marketing process, and all current and social events and the impact on consumer behaviour.
Video
Click below to watch video footage of Sergio Zyman. To enquire further about Sergio Zyman for corporate and private bookings, please click here or call us on +44 (0)1372 361 004.
Books and DVDs
Below you'll find products by Sergio Zyman which may be available for purchase. Click the image to view on Amazon's website. Clients often like to purchase books and other merchandise as autographed give-aways at events where Sergio Zyman is appearing. For bulk purchases, please speak with the Booking Agent handling your event.
You may also be interested in...