Sarah Cawood
Youth and music TV presenter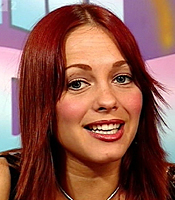 About
Sarah Cawood attended the Royal Ballet School at 16 and discovered her one true passion: Music. As a consequence of bunking off school to go and hang out at the Marquee club and the Astoria, she was asked to leave Royal and following a further two years training at The Arts Educational School, Chiswick, pursued a successful ballet career dancing all over Europe culminating in a stint in the west end appearing in "Phantom Of The Opera". Following a serendipitous meeting with an exec from Nickelodeon, Sarah embarked on her TV career, spending two years with Nick honing her live skills, then moving seamlessly from kids TV to late night channel 4 fronting The Girlie Show.

It was around this time that Sarah discovered that she could combine her two great loves (career and music) by presenting music programmes! Sarah is at her happiest in dingy clubs - from The Ramones to The Stills, from The Chili Peppers to The Charlatans, if it features a guitar, it's generally in her record collection. Stick her in a muddy field with a camera crew, sixty thousand people and a decent band and she's as happy as a pig in...well, you get the idea!

Sarah's versatile though, and in her many years working in telly to-date she has worked for MTV, presented coverage of the V festivals and Reading and Leeds for ITV 1 and 2, presented "Live and Kicking" and "Top Of The Pops" for BBC1, she was jungle correspondent for "This Morning" for "I'm A Celebrity...". Most recently, Sarah completed filming in LA and Cannes on the making of "Shrek 2" for T4.
You may also be interested in...