Robin Cousins MBE
World Championship and Olympic gold medal ice skater (Dancing on Ice)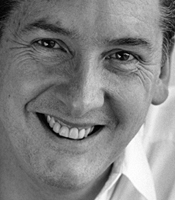 About
Robin Cousins won the World Free Skating Championship Gold Medal three times in 1978, '79 and '80 along with World Championship Silver and European Championship Gold before winning the Olympic Gold Medal at Lake Placid in 1980. That year, for his services to sport and skating, Robin was awarded the M.B.E. by Her Majesty the Queen at Buckingham Palace.

A highly successful career as a professional skater followed, appearing as special guest star with Holiday On Ice, with whom he set new, and currently unbroken, Box Office records for attendance levels over a six week season at Wembley Arena and also making many Special Guest appearances with Ice Capades in the USA.

In 1983 Robin set up his own ice company, choreographing hugely successful shows such as Electric Ice, which not only toured worldwide but also enjoyed a fourteen-week sell-out run at the Victoria Palace Theatre in London. Robin's list of extensive choreographic achievements includes ice interpretations of The Wizard of Oz, Starlight Express and Disney's Toy Story.

Robin Cousins has a longstanding involvement with Holiday on Ice, which has seen him star in, direct and choreograph numerous shows such as Celebration, Hollywood, Diamonds, Mystery and Spirit.

Away from the ice, Robin has forged a very successful musical theatrical career including starring roles in Rogers and Hammerstein's Cinderella, Cats and The Rocky Horror Show alongside appearances in Friday Night is Music Night and singing for the Queen at a Royal Gala for the opening of the National Skating Centre in Nottingham.

He was also the head judge on the highly successful Dancing on Ice for ITV and has been the commentary voice of skating for the BBC of the past 25 yrs. Robin is associated with many charities including Sussex Pet Rescue, The Meningitis Society and he recently cemented his involvement with children's charity Demelza House, by becoming a vice president.
You may also be interested in...