Robert Dole
Former Senator and one of America's wittiest public figures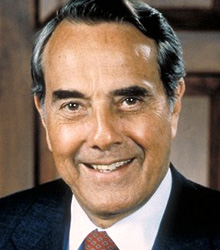 About
One of America's wittiest public figures, Bob Dole served his country as senator and veteran, proving himself both a consummate leader and a brilliant consensus-builder.

Raised on the plains of western Kansas, Dole first served his country during World War II. In 1945 he was gravely injured on the battlefield and was twice decorated for heroic achievement. Upon his return, he began an unparalleled political career, achieving national stature as Senate Majority Leader and the 1996 Republican Presidential Nominee.

Throughout his service in the Senate and as Senate majority leader, Bob Dole proved himself a visionary public servant and towering figure for his ability to build bipartisan consensus.

Dole ushers audiences into the midst of the most complicated of issues using the most delightful and charming of methods -- wit and intelligence.

His book titles reflect his personal style -- Great Political Wit: Laughing (Almost) All the Way to the White House and Great Presidential Wit... I Wish I Was in the Book.

As someone who's been on the national political stage for decades, Dole instinctively understands leadership and the principles that govern it -- principles he shares with audiences in a compelling and humorous presentation.

The retired senator now serves as the volunteer National Chairman of the World War II Memorial Campaign, and as chairman of the International Commission on Missing Persons in Bosnia.
You may also be interested in...