Richard & Judy
Popular husband and wife team daytime television presenters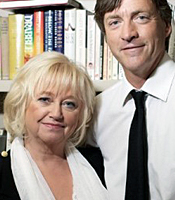 About
Richard Madeley began his career as a local journalist in Essex. At 19, he joined BBC Cumbria as a news producer and presenter before joining Border Television as a reporter/presenter in 1978. In 1980 Richard moved to Yorkshire Television where he reported and presented on regional Yorkshire Television programmes before moving on to Granada TV in 1982.

Judy Finnigan began her career as a TV researcher for Granada TV in 1971 after graduating from Bristol University with English and Drama BA Hons. Following a year's working holiday in America, Judy returned to the television industry in 1974 to take her first on-screen job as Anglia Television's first female reporter. She rejoined Granada in 1980 and worked on a range of live programmes including Granada Reports, which she co-presented with Richard.

In October 1988, Richard and Judy recorded their first episode of This Morning from the Albert Dock in Liverpool. They went on to present the programme for 13 years and established themselves as Britain's favourite TV couple. Whilst on ITV, their much-loved presenting helped the programme scoop the coveted award for Most Popular Daytime Programme at the National Television Awards in 1998, 1999, 2000 and 2001. Other collaborative successes for the couple include Get A Life, Tonight and the British Soap Awards.

Individually, Judy presented the Granada TV Coronation Street Specials, two series of the Judy Finnigan Debate and the primetime consumer show We Can Work it Out, whilst Richard presented the adult series of Connections, Runway and the extremely popular Eye of the Storm.

In 2001, Richard and Judy left ITV to present The Richard & Judy Show for Channel Four, on weeknights from 5-6pm. The show combines news-reactive items, light informal features and big name celebrity interviews. Recent guests have included Charlize Theron, Tom Hanks, Ben Affleck, Halle Berry, Susan Sarandon, Jennifer Lopez, Leonardo di Caprio and Cameron Diaz. The programme also hit the headlines with a string of television exclusives including the first live TV interview with Rebecca Loos, John Leslie, Paul Burrell, Madeleine Albright, Hillary Clinton and recently her husband Bill Clinton.

Viewing figures for Richard and Judy's teatime show have steadily increased and it now regularly attracts audiences of up to 2.6 million viewers. In May 2004 Channel 4 re-commissioned Richard & Judy for another three years which secures the presenters to the channel until December 2007.
You may also be interested in...