Reeta Chakrabarti
Political correspondent for the BBC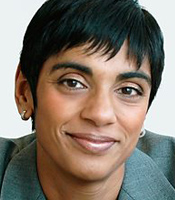 About
Reeta Chakrabarti is a BBC News presenter and correspondent. She combines presenting on the One, Six and Ten O'Clock News on BBC1 with being UK Affairs Correspondent. She has spent most of her career at the BBC, and was previously Education and Social Affairs correspondent. She also spent many years reporting politics from Westminster.

Before her career as a political correspondent Reeta spent several years as a radio producer and reporter on BBC Radio 4 and 5 Live, then she moved on to television. Reeta has also spent time as the BBC's Community Affairs correspondent, and has done stints covering home affairs, and health and education.

She later became a general news correspondent working in television as well as radio. In 1997, she became the BBC Community Affairs Correspondent, covering the Stephen Lawrence inquest, and subsequent public inquiry. She has also covered Home Affairs, including the Damilola Taylor murder trial. During her time at Westminster, Reeta covered three general elections, and several changes of party leaders. Other notable stories included the cash for honours affair, MPs expenses, and fronting audience reaction pieces, known as the "Worm" after the election leaders' debates in 2010.

On becoming Education Correspondent Reeta covered changes to university tuition fees; the introduction of free schools, and growth in academies; and changes to exams and the curriculum. She reported from South Korea on why East Asian pupils are far ahead of those in Britain in international league tables. On the social affairs side, she has reported on stories relating to adoption, poverty, and social mobility in the UK. Abroad she has looked at the success of women bankers in India, and why the pace of life in Denmark is healthier than in the UK. She has also done wider pieces looking at the implications for the public of successive budgets, and recently reported on the death and funeral of Lady Thatcher. Reeta has also presented on the BBC News Channel, BBC World, and Radio 4's The World Tonight.

She has a degree in English and French from Oxford and lives in London with her husband and three children.
Testimonials
I thought that she did a fantastic job, was professional, knowledgeable and kept things to time but was also warm and engaging.
Tags for Reeta Chakrabarti
You may also be interested in...