Professor Craig Mahoney
Chief Executive, The Higher Education Academy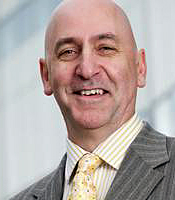 About
Born and brought up on a farm in Tasmania, Professor Craig Mahoney is an Australian who has lived in the UK for over 20 years. He is a graduate in Chemistry and Maths from the Tasmanian College of Advanced Education (now the University of Tasmania); he also holds a Masters degree from Birmingham University in the UK and a Doctor of Philosophy (Psychology) from The Queen's University of Belfast.

Professor Mahoney has had a distinguished career in academia and sport. He has published widely in the areas of children's fitness, health, sport, exercise, performance and education. Before joining the Academy he was Deputy Vice-Chancellor at Northumbria University where he was responsible for all learning and teaching activity. Prior to his appointment at Northumbria he was the founding Dean of the School of Sport, Performing Arts and Leisure at Wolverhampton University.

Professor Mahoney is a Chartered Psychologist and a past Chair of the British Association of Sport and Exercise Sciences (BASES). He has served as a reviewer for the Quality Assurance Agency in England and since 1995 has been on numerous committees and validation panels in UK Higher Education. In 2008 he was part of a panel to produce a new quality benchmark for Hospitality, Leisure, Sport and Tourism. He has held a variety of external examination engagements [at subject, programme and PhD level] to confirm standards and oversee the assurance of quality in UK Higher Education.

Committed to education, he is an advocate of e-Learning and the use of technology to create positive learning environments. He has been an outspoken advocate of Internationalisation including globalisation, professional development, staff and student exchange and international partnership development in research and enterprise. He has made strong commitments to Erasmus, Study Abroad programmes and other exchange arrangements for students including the recent Government sponsored China summer school scheme.

Professor Mahoney is a former semi professional squash player, who has coached and managed squash teams in Australia, Sweden and Ireland, and is also a qualified squash referee. With an international reputation as a sports psychologist, and the first person in the UK to hold dual accreditation from BASES, for Exercise Physiology and Sport Psychology, Professor Mahoney has worked with an extensive range of performers at World, Olympic and Commonwealth level and is an adviser to UEFA and FIFA on psychology in officiating. Amongst his greatest professional achievements as a sport psychologist he lists the 1993 All Ireland Gaelic Football title won by Doire County; two 3rd place finishes for the England Netball team in World and Commonwealth Championships; and several top ten finishes achieved by Irish sailors in the last four Olympiads.

He makes regular TV and radio appearances for the BBC, ITV and Sky and is frequently called upon to make contributions to newspapers and magazine articles on topics ranging across education, performance and undercover reporting. Professor Mahoney is Deputy Chair of the South Tyneside NHS Trust, a member of the JISC Advance Board and an Independent Governor at Tyne Met FE College. He enjoys travel, music, sport and spending time with his family.
Books and DVDs
Below you'll find products by Professor Craig Mahoney which may be available for purchase. Click the image to view on Amazon's website. Clients often like to purchase books and other merchandise as autographed give-aways at events where Professor Craig Mahoney is appearing. For bulk purchases, please speak with the Booking Agent handling your event.
Tags for Professor Craig Mahoney
You may also be interested in...