Phillip Schofield
Popular British television presenter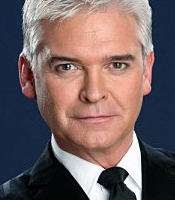 About
Phillip Schofield joined This Morning in September 2002 and currently co-presents the show with Holly Willoughby five days a week.

By the age of ten, he had already decided that he would like to pursue a career in broadcasting and began to write to the BBC. He was finally offered a job in September 1979 at Broadcasting House, London, working for Radio outside broadcasts as a booking clerk.

At 19, Phillip left the BBC and emigrated with his family to New Zealand. Within a year, he was presenting on Radio Hauraki in Auckland and went on to present on television. Three and a half years later, he decided that it was time to return to Britain.

Within four months of returning to the UK, the BBC presentation department offered him the job of fronting Children's BBC from the Broom Cupboard; the first time in 35 years that an 'in-vision' presenter had linked the weekday afternoon programmes. Phillip accepted and stayed with presentation for two years. He then went on to present five series of the popular live Saturday morning show Going Live, four series of Take Two, three series of his own quiz show, The Movie Game, two series of the highly acclaimed travel show Schofield's Europe and a series of Televisions' Greatest Hits.

In 1993 he signed a two year contract with ITV and starred in Andrew Lloyd Webber's Joseph and the Amazing Technicolour Dreamcoat at the London Palladium. Phillip then took the show on tour around the UK and Eire from December 1993 until February 1995. In December 1995 he took up the 'Dreamcoat' again at the Oxford Apollo Theatre and in February 1996 moved to the Hammersmith Labbatts theatre through to the middle of 1996.

In 1996 Phillip also signed an exclusive contract with Carlton Television and presented a number of shows including Schofield's Adventures in Hawaii (a one hour special), Schofield's Quest, two series of Tenball and two Christmas specials Schofield's Gold and Six Little Angels. Autumn 1996 saw Phillip presenting two series, One In A Million and Schofield's TV Gold, followed by a one off Christmas special, Now We're Talking. In autumn 1997 Talking Telephone Numbers returned for it's fifth series and a further series of One In A Million ran through to July 1997.

Phillip Schofield is a popular and sought-after host for corporate dinners and award ceremonies.
You may also be interested in...