Phil Gallagher
BAFTA nominated CBeebies children's television presenter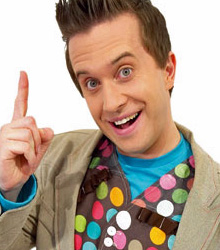 About
Phil Gallagher is a BAFTA nominated performer, best known for his role as CBeebies' Mister Maker. Phil has worked in Children's Television as a presenter, actor, writer and production team member.

His career began at Disney, where he worked both behind and in front of the camera for Playhouse Disney and the daily live show, Studio Disney. He later worked on ITV1's Diggin'it as a performer, puppeteer and head script writer. The show was broadcast every Saturday and Sunday morning for over two years, until 2005. Since then, Phil has been working for many different channels and production companies.

Off screen, Phil Gallagher continues to write scripts for a variety of different children's programmes. Recent credits include: Big Barn Farm, Hotel Trubble, Boblins, I Can Cook and Mister Maker. On screen, he was one of the presenters on BBC2's Saturday morning show Mighty Truck of Stuff and has appeared in CBBC comedies Bear Behaving Badly and Hotel Trubble. He is also a regular character in the hit CBeebies' comedy drama, Grandpa in my Pocket – where he plays the cycling enthusiast, Mr Liker Biker.

2010 saw the launch of a new comedy show for CBeebies on BBC2 - Jollywobbles - in which Phil can be seen starring alongside his good friend Justin Fletcher.
You may also be interested in...