Peter Alliss
Former golfing pro and World renowned commentator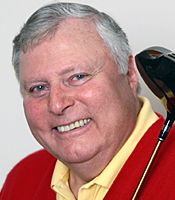 About
Peter Alliss was born in 1931, the son of famous British Professional Percy Alliss, one of Britain's leading professionals between 1920 and 1939.

He has twice been Captain of the Professional Golfers' Association and was the first President of the European Women's Professional Golfers Association, as well as past President of the British Greenkeepers' Association.

Peter is recognised around the world for his television commentaries for ABC in the United States and the BBC in Europe, as well as working for the Australian and Canadian Broadcasting Corporations. He was the host of 140 Pro Celebrity Golf television programmes made by the BBC between the years of 1974 and 1988 and was also the host of another very successful series entitled "Around with Alliss". His most recent television series, "A Golfer's Travels", is still being shown on worldwide television.

He has written 20 books, the latest being 'Golf Heroes', and also writes regularly for Golf International and Golf World Magazine. Peter took up the golf gauntlet of the family and turned professional in 1947, when he was 16. During his pro career, which lasted until 1974, Peter won three British PGA Championships, played on eight Ryder Cup teams, played on ten teams representing England in the World Cup and won 23 major tournaments, including two Spanish Opens, one Italian, one Portuguese and one Brazilian.

He spent only six weeks on the American tour in 1954, and therefore was little known there as a player. Although he never succeeded in winning any of the major championships, his victory tally in European tournaments was impressive, no less than 20 wins between 1954 and 1969, including the Italian, Spanish and Portuguese Opens in the space of three weeks in 1958.

His first appearance in the Ryder Cup was in 1953, and with the single exception of 1955, he represented Great Britain and Ireland in the event until 1969.

Peter Alliss' retirement from international golf at the early age of 38 ("I began to twitch on the short putts", he said) has led to a successful triple career as a broadcaster, writer and golf course design consultant.

Peter joined the BBC television commentary team in 1961 and has become known to millions of viewers in America, Canada and Australia as well as the UK, where he enjoyed a commentating partnership with the late Henry Longhurst, and on programmes such as the popular "Pro-Celebrity" series and "Around with Alliss".

Noted for his depth of knowledge of the game of golf, his wit and 'off-the-cuff' humour, Peter's cheerful and informative presentation has helped to convert many non-golfers to the sport.
You may also be interested in...