Pamela Uddin
The Apprentice contestant 2014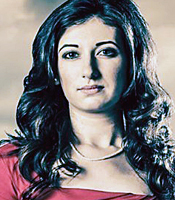 About
Originally from Waterford City in Ireland, Pamela Uddin's mother is Irish and her father is from Pakistan. She graduated from university with first class honours, and received a scholarship to complete her masters in International Business. Since leaving university, Pamela has worked in brand marketing and is inspired by brands such as Nike, for their inspirational and motivational advertising, and Paddy Power, for their tongue in cheek communication.

Since then Pamela has gone on to start Alexia, a social enterprise that will focus its work on providing advice to schools and businesses, in both the public and private sector. The goal is simple - helping to realise the potential of people with dyslexia and stammers.

Alexia consults to both educational boards and businesses about how to realise, and understand, the full potential of people with dyslexia. These are both areas that Pamela Uddin can speak about from personal experience. Pamela went through school as an undiagnosed dyslexic and battled confidence issues caused by a stammer. It wasn't until her university years that she fully understood her condition and it wasn't until then that her potential blossomed. She now wants to help ensure that the next generation of young people don't have to endure the bullying, anguish and feelings of isolation that she went through.

Having worked for a number of market leading businesses already and experienced life in Lord Sugar's Boardroom, Pamela's career may still be in its early stages, but she isn't lacking in experience or self-belief. She now wants to share this and believes she can make a real difference.
Speech Topics
Since gaining the attention of the media following her participation on The Apprentice, Pamela Uddin has become a sought-after motivational and inspirational speaker.

Pamela's speech topcis include:
• The Apprentice: why I applied and what it taught me
• My struggle with dyslexia and a speech impediment: how I turned a disability into a strength
• Entrepreneurship: using our unique skills to lead us to life and business success
• How to be the best that you can be in life and business
• Building the right teams and unlocking creativity
• Managing learning disabilities within the workplace
You may also be interested in...