Niki Lauda
Three time World F1 Champion (Subject of film RUSH)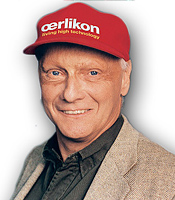 About
Niki Lauda is a living legend and one of the greatest drivers Formula 1 has ever seen. A three-time World Champion, Niki Lauda survived one of the worst ever crashes in F1 and recovered by what the doctors called 'sheer force of will'. His astonishingly quick return to the driving seat was one of the most courageous comebacks in sporting history.

More recently, Niki Lauda founded and run two airlines and was manager of the Jaguar F1 racing team for two years. He came a pundit for German TV and non-executive chairman of Mercedes AMG Petronas Team.

Despite being born into wealth, none of it was available to Niki, whose father deemed his 'playing at being a racing driver' as simply bringing the Lauda name into disrepute. Instead, Niki forsook university and worked his way into racing with personal bank loans.

Having started in a Mini in 1968, he worked his way through Formula Vee and Formula Three and in 1972 bought his way into the March F2 and F1 teams with another bank loan.

Having moved to Ferrari, in 1975 Niki won victories in Monaco, Belgium, Sweden and the USA to become World Champion. And Italy celebrated Ferrari's first title in over a decade.

In the summer of 1976, Niki had already stormed to victory in five grand prix and seemed destined to retain his title as World Champion. Until that was, on the second lap of the Nurburgring, Germany, Niki Lauda's Ferrari inexplicably crashed and burst into flames. Niki suffered first and third degree burns on his head and wrists, several broken bones and lungs scorched from inhaling toxic fumes.

Astonishing everyone around him, including the medical community, six weeks later, Niki was back in the cockpit, his head still in bandages, finishing fourth at the Italian grand prix.

Still driving for Ferrari, Nick went on to regain the World title in 1977 and thereafter moved to Bernie Ecclestone's Brabham Team. In 1979, Niki retired from F1 and started his own airline, Lauda Air, also serving as one of its pilots. Requiring more capital to grow the business, in 1982 Niki looked back to F1 and signed with McLaren for a reported five million dollars and in 1984 won his third World Championship title, taking the title from his team mate, Alain Prost.

Niki Lauda won a final Grand Prix in 1985 and retired from the sport.
Video
Click below to watch video footage of Niki Lauda. To enquire further about Niki Lauda for corporate and private bookings, please click here or call us on +44 (0)1372 361 004.
Books and DVDs
Below you'll find products by Niki Lauda which may be available for purchase. Click the image to view on Amazon's website. Clients often like to purchase books and other merchandise as autographed give-aways at events where Niki Lauda is appearing. For bulk purchases, please speak with the Booking Agent handling your event.