Nicky Clarke
Co-founder and Chair of The Military Wives Choir Foundation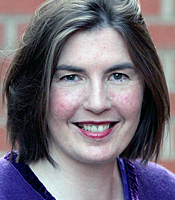 About
Following the deployment of her husband to Afghanistan in 2009, Nicky Clarke contacted TV choirmaster Gareth Malone with her intention of setting up a Military Wives choir. The resulting formation of the Military WAGS Choir provided an opportunity for servicemen's wives, affiliates, girlfriends and servicewomen to share their passion for music, express themselves and help to unite the community of Catterick Garrison, the largest British Army garrison in the world.

Gareth Malone was inspired to assist in the setting up of two similar choirs in Devon - one at Royal Marines Base, Chivenor and the other at Royal Citadel, Plymouth - and the formative steps of these endeavours were closely documented in his popular UK TV show. Building on the success of the series, a Decca-issued, Paul Mealor-composed single "Wherever You Are" reached the Christmas 2011 UK number one spot.

Nicky Clarke now sings with the Salisbury Plain and Upavon choirs and is Chair of Trustees of the Military Wives Choir Foundation. Her role is to oversee the development of the organisation, manage the Board of Trustees, and ensure we maintain the vision we originally set out – that the MWCF is at its heart, an organisation that provides support for women in the military community. In 2014, Nicky was recognised by HM The Queen in the birthday honours list for her services to military families and awarded an MBE.

Nicky Clarke is also a psychotherapist in the NHS. Prior to this training, she spent 15 years in the marketing and advertising industry, working for agencies in the UK, Canada and the USA. She now enjoys a slightly more peaceful life in Pewsey with her husband and young daughter and shares her heart-warming and uplifting story through talks with companies and organisations across the country.
Speech Topics
Nicky Clarke's after dinner talk guides you through the inspirational story of the growth of the Military Wives Choirs and how it all started with a single letter to Gareth Malone and a small group of women.

Nicky Clarke describes her experience as a military wife living in a new town, struggling to find employment, missing her family and also her husband who was operationally deployed. She looked to the army for support, but found only the odd coffee morning. "This can't be it!" she thought. She decided that she would set up a choir and wrote a letter to Gareth Malone asking him for his advice. Little did she know where that simple letter would lead!

Nicky Clarke describes the phenomenal growth of the Military Wives Choirs, their many achievements and how they made a difference to the lives of women from across the armed forces.

This is an inspiring and heart-warming story that will leave your guest feelings uplifted.
You may also be interested in...