Nick Hancock
Actor, TV presenter and original host of They Think It's All Over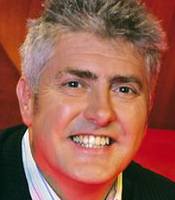 About
Nick Hancock began his acting career performing at the Footlights whilst at the University of Cambridge before going on to become the society's president. His first TV appearances were in episodes of the world famous Mr Bean.

Nick became famous for his presenting roles and spent ten years as the original host of They Think It's All Over. From 1992, Nick was also the presenter of the original radio versions of Room 101 before being the face if the TV version until 1999.

After passing on the host duties for both Room 101 and They Think It's All Over, Nick Hancock took a sabbatical to enjoy family life and his children. He has made one-off appearances, including on Red Nose Day's The Ultimate Makeover, where Hancock, Anna Ryder Richardson, Phil Tufnell and TV gardener Joe Swift transformed a Liverpool play centre for children whose parents could not afford child-care.

Nick has filmed a series for STV and Discovery Real Time called Nick Hancock's Fishing School, where he teaches a number of students the art of fly-fishing.

In 2007, Nick Hancock presented a new game show called Win My Wage for Channel 4. The show aired in Deal or No Deal's usual slot during the latter's summer break. In the same year it was announced that Nick would host a new show on ITV1 called Duel. Then in 2009, he became the host of the daytime cookery competition series Taste the Nation on ITV1.

Nick Hancock stood in for Danny Baker and Colin Murray on the radio in 2010 and appeared in a celebrity special of hit ITV1 game show The Chase, in which he came just one second from winning a half share of £64,000 for this favourite charity!

Nick was asked by BBC America to join the panel of the popular NPR quiz show Wait, Wait... Don't Tell Me! for their 2011 end of year special on BBC America called "A Royal Pain in the News".

Continuing his hosting career, Nick Hancock then became the host of the new BBC Two show, Breakaway, which began screening in 2012. In June 2015, Nick guest hosted the breakfast show, on local commercial radio station Signal 1.

Nick Hancock is one of the most famous Stoke City FC fans. As a lifelong genuine fan he is hugely popular with fellow Stokies who respect his unwavering support for the club through many a lean year. Nick is also an avid cricket fan. He was interviewed by 6 Towns Radio about the 40th anniversary of Stoke's 1972 League Cup win.
Books and DVDs
Below you'll find products by Nick Hancock which may be available for purchase. Click the image to view on Amazon's website. Clients often like to purchase books and other merchandise as autographed give-aways at events where Nick Hancock is appearing. For bulk purchases, please speak with the Booking Agent handling your event.
You may also be interested in...